About
Peerbits is proud to develop a mobile application specially designed for all the bike lovers. This application acts as a platform where different bikers get a chance to go on a bike trip together. It's very simple, just register on the app and search for bike trips near your location. Accept any of the bike trip and join them for the journey.
The application is bilingual as it is available in both English and Arabic. The app also allows you to create your own bike trip. The application has multiple features which makes your bike riding experience simple and convenient. The application also allows the user to find the nearby garages from its location in case of any emergency.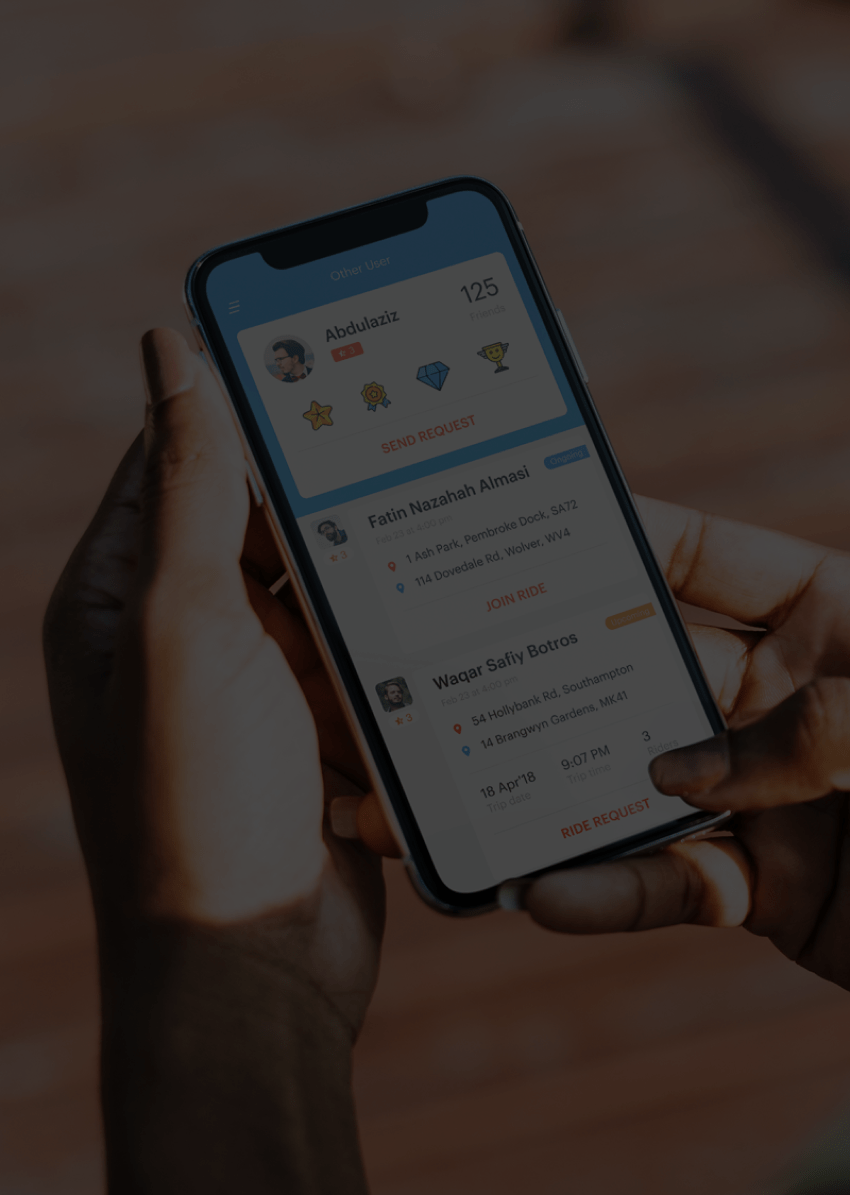 Our client wanted to develop a mobile application that can help the bikers to follow their passion of riding bikes by exploring various biking opportunities in either nearby city or within the city. They wanted an app that can help bikers to socialize with other bikers like them. They also wanted that their mobile app comprises advanced features that can deliver high quality user experience.
Our team of proficient developers assessed all their requirements and finally came up with a mobile application that comprehensively fulfilled all their needs. This bilingual mobile app served as a social networking app for the bikers which helped them to build a strong network with other drivers and gave them an opportunity to go on several bike rides.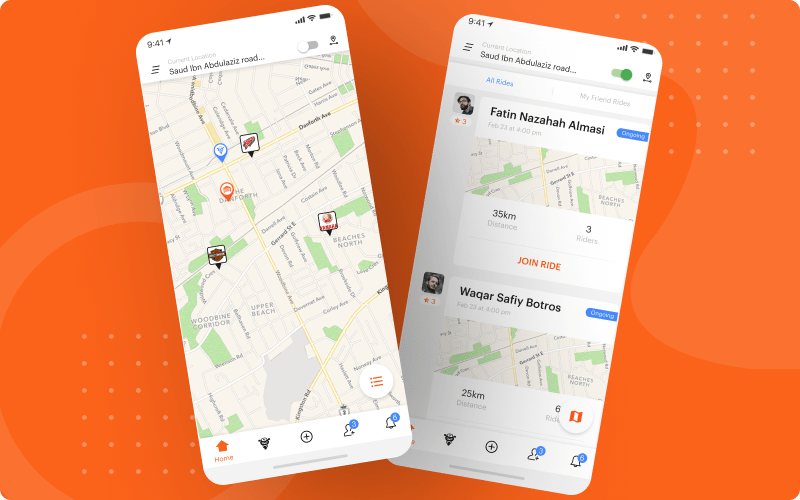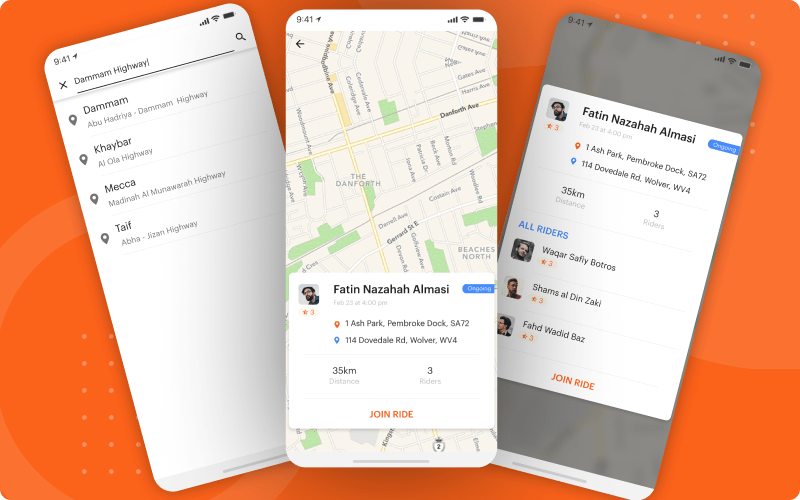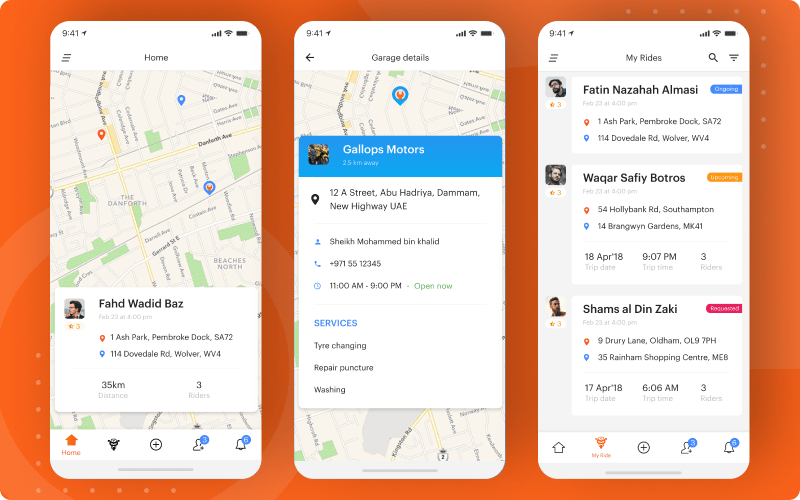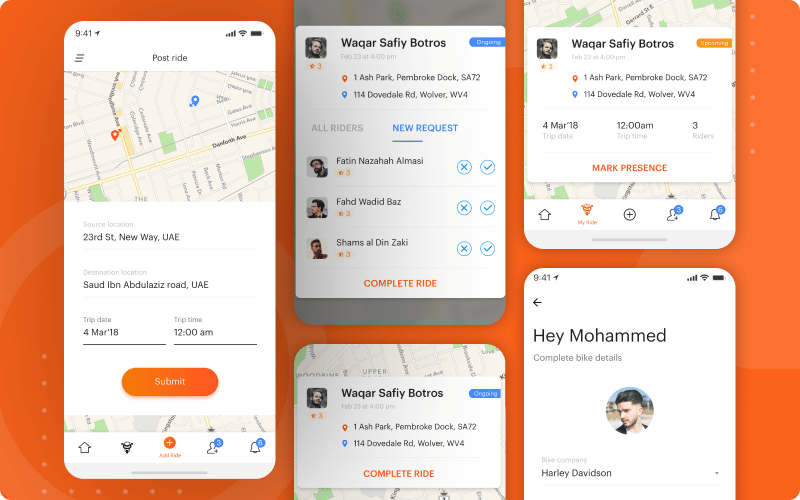 Find nearby rides in map
Users can explore the map to view and join different rides. They can check other important details in the ride request like the origin point, destination point, and the start time.
Post quotations
Users can also search rides by entering the destination location. For example, if a user is traveling to another city, then he can search that city in the app and find rides with same destination.
Set location proximity
Bikers can set their desirable location proximity to view the ride requests near to them. For example, a rider can choose a proximity radius of 5 km, and view all the ride requests that fall under that distance.
Create your own ride
Apart from viewing and accepting various ride requests, the users can also create their own rides by selecting source & destination location along with date and time.
Manage requests
Once the user creates a ride, he/she will receive requests from other riders to join the ride. The user can either accept or reject the request as per his/her convenience.
Make friends
Users can increase their network biker friends by following different bikers from the app. This will provide them with their friends' updates.
Rate other users
On completion of the ride, the user can rate and write a review about the other users as per their experience with them.
Earn badges
There's also a reward feature in the app in which riders get the opportunity to earn various badges when they achieve milestones like completion of 10 rides, 50 rides, or 100 rides.
Technology stack
Editor
Xcode, Android studio
Aftermaths
The application received an enormous response from the film fraternity as many artists got fruitful results from the app.
Have a look at
Our
success stories
Over the years, Peerbits have delivered several customized solutions to their clients across the globe. You can get a closer look at few of such success stories here.