About
Peerbits has developed an education app for our client Sabah Al Ahmad Center for Creativity and Giftedness (SACGC). This mobile application acts as a platform for its users to enroll themselves and their friends in the SACGC – a training center based in Kuwait. SACGC has a total of six branches in Kuwait that provides a variety of courses and training to their students.
The application is bilingual and is available in English and Arabic. This application has many things to offer to its users. It gives a comprehensive information about all the courses whether they are ongoing or upcoming. Any user can avail these courses by making the payment through the app itself.
Our client Sabah Al Ahmad Center for Creativity and Giftedness (SACGC) is a reputed training institute. It's well-known for the variety of courses and quality of teaching. However, they were facing problems in reaching out to more students. They wanted to develop a mobile application that can work like a platform to enroll in their institute and also to guide their students.
To overcome the challenges of our client we came up with an app that fulfilled all our clients' requirements. With this application, all their users can see the number of different courses, its eligibility, timings, instructor, and many more. The app also provides all the guidance to the students related to the institute.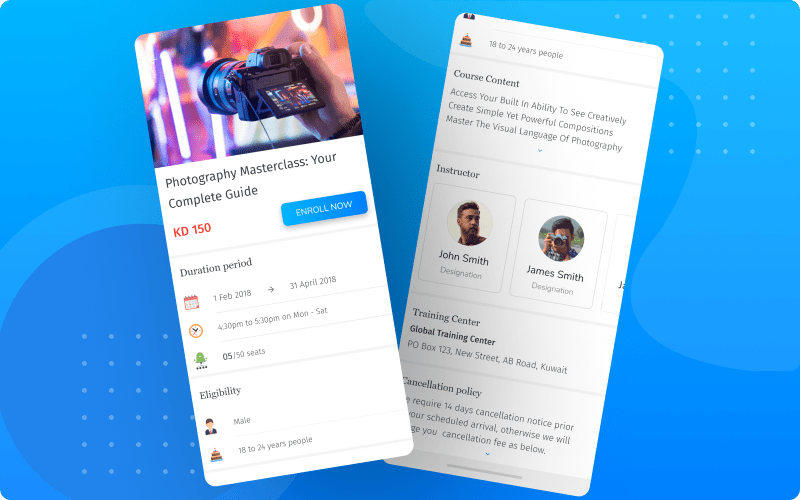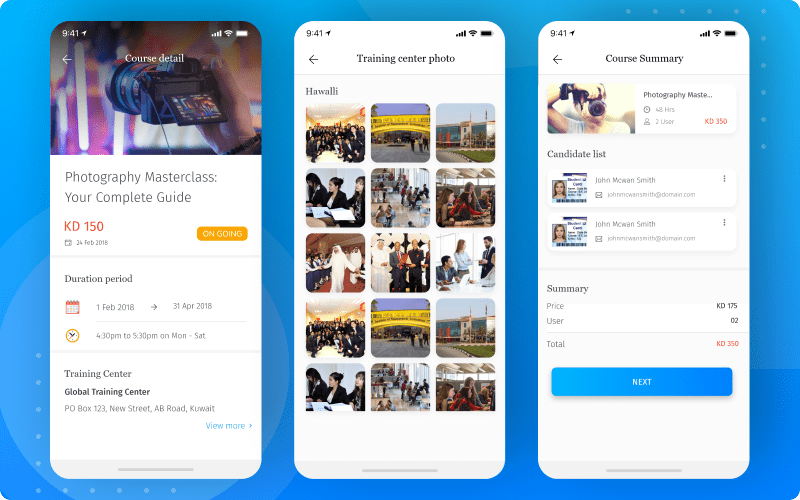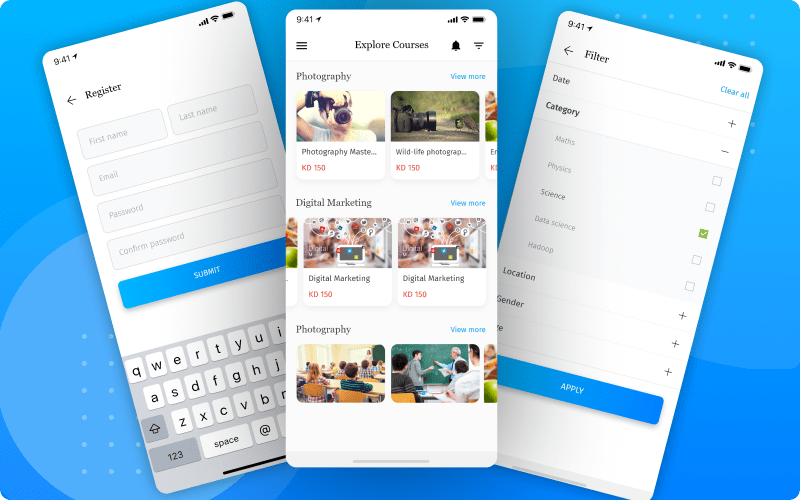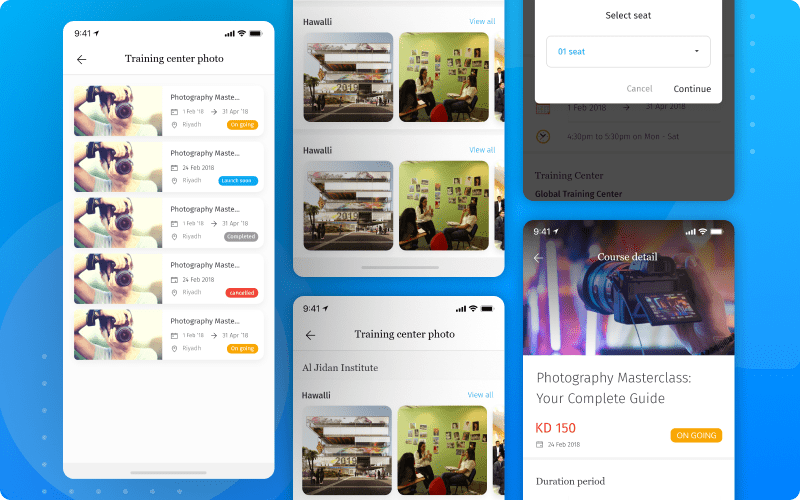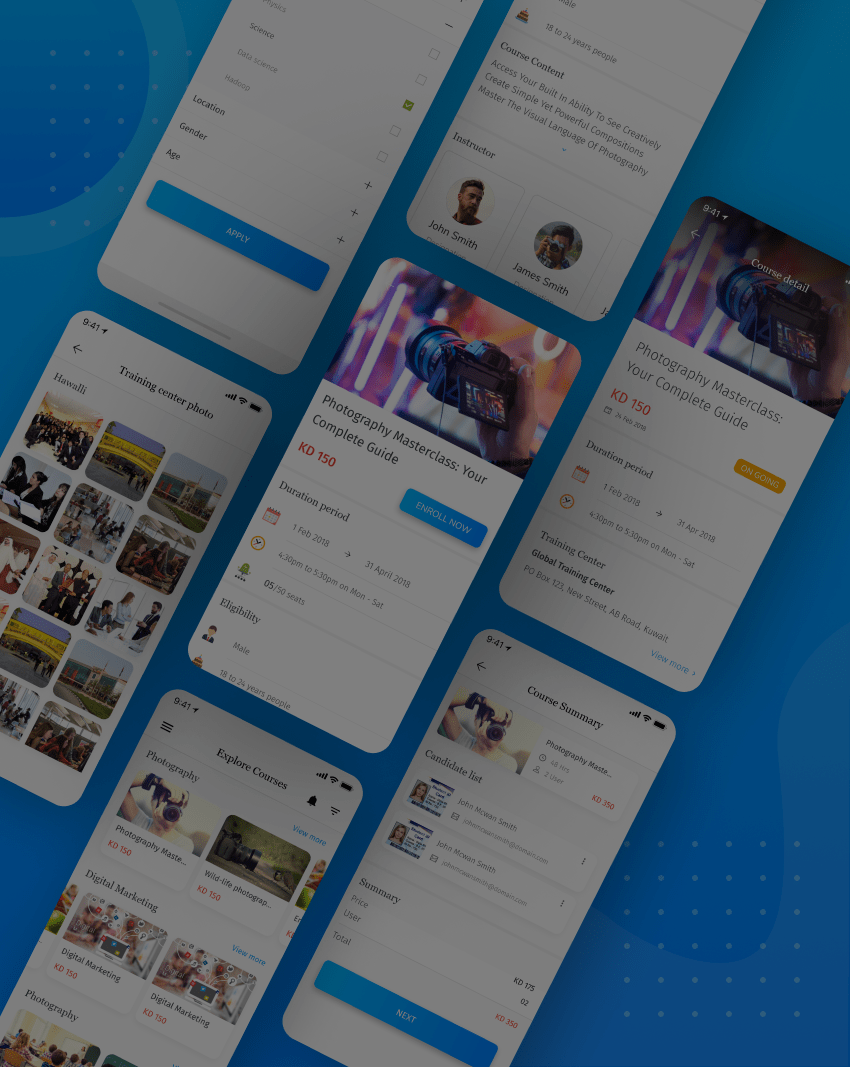 Explore courses with various filters
The institute has many courses and that's why this feature comes in handy as it allows its users to search for a course by using different filters such as category, age, location, gender, start date, and many more.
Bilingual
Our client's institute is a reputed one in Kuwait and they wanted to attract students of all demographics. That's why we develop an app in both English and Arabic language.
Online enrollment & payment
This feature allows the user to enroll for various courses of their choices. Along with that they can also make payments online via the mobile app.
Gallery
Users can always have a look at the gallery that features pictures from all six branches of Sabah Al Ahmad Center for Creativity and Giftedness (SACGC).
Notify me
This feature is a crucial one as it lets its user to set a reminder to any of the upcoming course. Whenever, the date of that course approaches near, the app reminds the user to enroll for it.
News
This feature shows all the news related to academics. It also shows the details about examination taken for various vacancies.
Technology stack
Editor
Xcode, Android studio
Aftermaths
This app played turned out to be a huge success for clients. It played a pivotal role in attracting many new students into the institute.
Have a look at
Our
success stories
Over the years, Peerbits have delivered several customized solutions to their clients across the globe. You can get a closer look at few of such success stories here.