All businesses, including large and small, take advantage of both a well-defined organizational structure and a perfect team.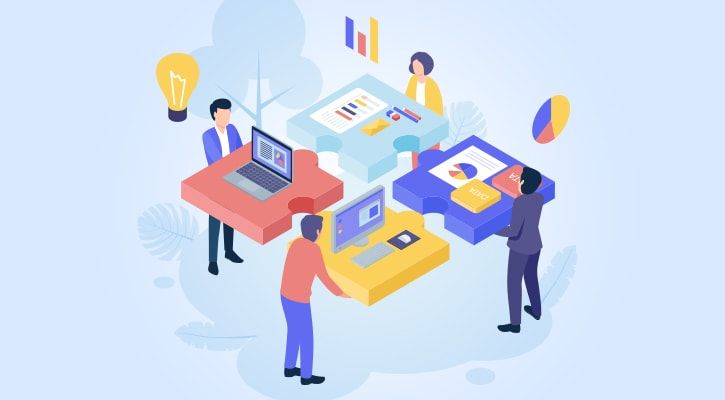 In order for a company to achieve its planned mission and reach its objectives, it needs to create an effectual structure.
If a company doesn't have an organizational structure, it can still fail even with strong leadership and hard-working employees.
So, when you plan for a new project, first you need to look at the best project team.
What is a Project Team?
Project team members are the persons who actively work on one or more phases of the project.
They may be in-house staff or offshore development team, working on the project on a full-time or part-time basis.
Team member roles and responsibilities can vary depending on the project.
A project team can be responsible for a variety of duties and tasks based on the project they're involved in.

A good project team organization involves a proper setting of team responsibilities and duties while considering specific goals and objectives for the project.
A project team member's duties may include:
Contributing to overall project targets
Carrying out individual deliverables
Giving their expertise
Working with users to meet business requirements
Documenting the procedure
But a project will be only successful when the individuals behind it work dedicatedly towards it.
Hence, when leaders select people for their software development team on the basis of knowledge, it is certainly not the best way to go about it.
How to Identify a Good Project Team?
There are a number of specific skills leaders must search for, indicating who can be added to the team and collaborate well with others.
Read More: A complete guide on hiring offshore development team
Even those employees with the best skills also require training to shine as a project team member.
Simply assuming people already have all the required skills, or that they'll quickly observe others and catch on, is not a correct approach.
Even those employees with the best skills also require training to shine as a project team member.
Companies who want the best project outcomes must be willing to invest in their employees first.
Here are a few qualities you must look for in your team:
Excellent communicator
Project team members work with all types of people, coming from different backgrounds in an organization.
As a result, these project management professionals must have the ability to efficiently communicate with diverse audiences.
Remember, poor communication can break the success of any project, so this is vital.
Knowledge of project management principles
While team members don't have to be experts on every approach, tools, and terms, but having a basic knowledge of project management fundamentals can help them with a solid base to work with.
Read More: Rise of applications for internal systems and project management
Highly Organized
Mass chaos does not work in project success.
A project team member must be highly organized, so they know exactly what is going on in each step of the project at all stages.
These professionals must know how to skilfully use available tools and techniques to stay organized, even when under major stress.
Strong ability to read people
The best project team members are also strong leaders who know how to inspire or motivate people.
They're able to create a vision for both stakeholders and their teams to look for motivation. In case of a crisis, they know exactly what it takes to motivate people to get the job done.
Accurate estimating skills
The project manager relies on team members to provide estimates for their assignments.
Estimates need to be précised because they have the potential to throw the entire project timeline off.
One delayed task can result in a domino effect, eventually causing everybody to miss key deadlines.
Self-Assured
A project team member needs to behave civilly and firmly when faced with opposition from others in the association.
These professionals need to clearly express their needs and stand up for the best interests of the project when faced with barriers.
Proactive person
Proactivity is an important component of each winning team.
Your project deeply depends on the activity of each of your team members' combined.
Employees that take action on their own are useful assets. Seek this in your employees, and your project will run smoother and faster than you would have imagined.
Resourceful and influential individuals
Who doesn't want their software development team to be resourceful?
Always look for resourceful persons.
Your team should be comprised of individuals who have professional connections with different organizations, persons, and/or clients.
Ideally, they should be powerful, meaning that people will recognize them as an influence in their corresponding field.
Five Most important roles to define in your project team
Successful projects are usually the outcome of cautious planning and the talent & collaboration of a dedicated development team.
Projects can never gain success without each of its key team members, but usually, it's not always clear who those members are, or what roles they engage in.
Projects can never gain success without each of its key team members, but usually, it's not always clear who those members are, or what roles they engage in.

Project manager
The project manager plays the most important role in the project and is accountable for its successful completion.
The project manager's job is to certify that the project proceeds within the specified time frame and under the fixed budget while accomplishing its objectives.
Project managers also ensure that projects are being provided with plenty of resources while maintaining relationships with contributors and stakeholders at the same time.
Project manager duties:
Create a project plan
Manage deliverables in a timely manner
Hire qualified project staff
Lead and supervise the project team
Decide the methodology used on the project
Establish a project schedule and decide each phase
Allocate tasks to project team members
Provide daily updates to upper management
Team leader
A team leader is someone who gives guidance, instruction, and direction to his or her team members to ensure all project goals are achieved.
An effective team leader knows the strengths, weaknesses, and motivations of his team members'.
Apart from this, team leaders also serve various roles in an organization.
Their profession is to ensure the completion of the tasks by using all of the resources available to them.
Below is a list of some significant roles a team leader usually works on:
Creating a strategy so that the team will reach its goal
Providing important training that team members require
Addressing clear instructions to team members
Listening to team members' feedback
Monitoring team members' participation to ensure that the training they are being provided with is being useful. They also see if any additional training is being needed.
Managing the flow of day-to-day operations
Creating reports to inform the company on the team's progress
Distributing reports to the appropriate personnel
Senior member
A senior member is often considered as a more experienced and skilled team member.
They are delegated to deal with the big and more complex project tasks and maybe assigned more projects at once.
The precise job description and responsibilities of a senior member will differ from company to company.
A senior team member may also have additional duties connected with project management, project managers, and the company as a whole.
Their project responsibilities include:
Being the escalation point. Senior project members can sometimes play as a major point of contact for stakeholders on projects that belong to junior staff. This is usually done when the project manager cannot resolve rising issues on their own.

Protect struggling projects. When a project gets too far from its track, a senior member steps in to assist the junior members or takes over the project.

Responsibilities for a senior project member include:
Conducting Interviews and hiring junior members. Senior project members take the interview and decide to hire a new project member

Training and supervising. In some companies, senior project members report directly to team leaders who direct it further.

Mentoring and coaching. Senior project members are also often involved in coaching and mentoring new junior staff.

Stand as a role model. People in this profession are expected to be a role model for junior staff of the team.

Big-picture support. Senior project members' duties also revolve around helping in program management and other PMO duties.
Junior member
A junior project member is responsible for the completion of the project work within the given time frame.
Their job description entails coordinating with the other team professionals and technicians for the purpose of achieving the goal of a given project.
They also follow the administrative guidance on project execution.
Contributor
A project team contributor is a person or an organization who involves himself in teamwork but is not actually engaged in performing tasks and carrying out project team duties.
Read More: A complete guide on mobile app architecture.
Speaking of which, although there are a lot of different types of structures that organizations can adopt, depending upon their type of organization, but having the right structure can give you many advantages such as:
Clear reporting relationships
Maintaining reporting relationships will all the staff of the organization is very necessary. It helps the members of your application development team
to understand their responsibilities and whom they are accountable to.
These clear relationships make it simpler for managers as well to supervise those in lower organization levels. Each employee benefits by knowing whom they can ask for direction or help.
Moreover, managers are also alert about who is not in their work authority- so that they don't step outside their boundaries and interfere with another manager's responsibilities.
Rapid growth and expansion
We all are living in a comprehensive ever-changing modern world. So, to rapidly grow in a market, companies need to make the best use of their present available resources, including management talent.
A good organization structure means a company has the right people in the right position.
An organizational structure should be well formulated otherwise it shows the weak spots in the company's management system.
Also, the organizational structure must evolve as the company grows.
Sometimes, one department head has to deal with too many individuals at one time.
In that case, he can't give proper attention and direction necessary for the employees to succeed which can lead to failure of the project.
Efficient task completion
A well-designed organization structure eases the execution of projects.
Project managers can easily classify the human resources available to them if the role of each department's responsibility – and each team member's potential – is clear.
For instance, to develop a new product, conducting market research is necessary. So a project manager needs to know the right people in the organization who can provide the research, and also whose permission must be granted for the research to be done.
Better communication
Since the lines of communication and flow of authority are evidently identified on the organizational chart, the inter­communication should be both clearer and easier to eliminate any vagueness.
The flow of information is critical for the success of any organization, which is why you must plan the organizational structure with clear lines of communication in mind.
Conclusion
The success of any project highly depends on the project team with the right organizational structure.
There are very high chances of project failure if the objectives are not clear or the project team does not perform to the best of their ability.
Therefore, an organization should always uphold the right management structure and adopt successful model to extend your team and execute the success of the project.