Building a customized solution for your start-up and enterprise can be a costly affair. These high costs can hurt you severely especially if you're a start-up owner.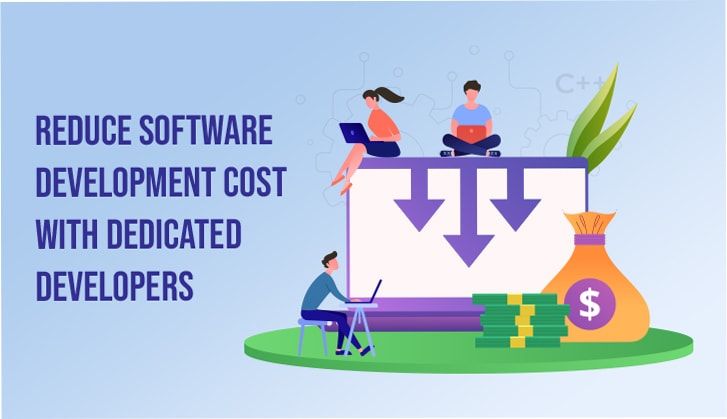 But, what if I tell you that there's a way by which you not only reduce the overall cost of your solution development, but also enjoy added benefits like better flexibility, a greater focus on business, access to a variety of skills, and many more.
Yes, you guessed it right, I am talking about hiring dedicated developers for developing your next project. Unarguably, dedicated development teams are the best way to reduce the cost associated with software development.
And I am not making this claim out of thin air; I have got an entire blog to support this claim and that blog is the very same that you're reading right now.
In this blog, we'll discuss how hiring dedicated developers can significantly reduce your software development costs. We'll also discuss when you should hire dedicated developers and the factors which increase the overall software development cost.
When should you hire dedicated developers?
There are obvious signs that will indicate you to hire dedicated developers for your projects. Let's have a look at them one by one.
Experiencing a shortage of skills
The world of technology is highly dynamic in nature. It's because you witness rapid changes on regular basis. This is the reason why it becomes important that your developers possess the expertise of all the trending technologies and tools.
However, it's not always possible to have such resources at your disposal. This is where the need and demand for dedicated developers arise.
Companies can compensate for the lack of technological expertise by hiring dedicated developers who possess the expertise of diverse technologies.
These dedicated developers will leverage their expertise and experience to render top-notch customized solutions for your companies.
Projects that have unclear scope
Many a time, an enterprise can't define the scope of the project that well. This unclear scope of the project increases the time involved in the software development process by many folds. Hiring dedicated developers can prove to be effective in such scenarios.
This is because, whenever you hire dedicated developers from other countries at lower costs, you can effectively eliminate cost deviations.
For this, all you need to do is pay a fixed salary to the dedicated developers for the number of hours they work.
Furthermore, offshore developers provide flexibility in the project which allows you to make any modifications in the project requirements easily.
Ineffective utilization of technology
The realm of software development is huge as there are many platforms, modern tools, and programming languages.
Moreover, with time the domain of software development is increasing with the introduction of cutting-edge technologies.
In such a scenario, it's not always possible for you to have resources who can utilize all the modern technologies.
However, by hiring dedicated developers, you can overcome this problem as it provides you with a large pool of developers that possess expertise in all the modern technologies.
Facing difficulty in paying utility bills
When you've got an in-house team in place then you've to pay on-the-job utilities such as cooling, heating, electricity, gas, etc. Sometimes, these bills can get out of control.
In such a scenario, you can hire remote developers and save up to around $10,000 on your utility bill spending.
Struggling to retain your in-house talent
As per StackOverflow survey, over 60% of the on-job developers are open to new job opportunities available in the market. This isn't a favourable situation for any employer. Due to this retaining your software developers is a tough task.
You can get out of this situation by hiring offshore developers who would manage the entire development process thus resulting in smooth teamwork.

Factors causing projects to go over-budget
Before understanding how dedicated developers reduces your overall software development cost. It's important to understand the factors that cause the projects to go over budget.
Poor planning
We all know how important proper planning and execution is to achieving success. Proper planning is one of the crucial aspects that can help in cutting software development costs.
For this, it's imperative that you should know your requirements and the budget limits. Planning is very important when it comes to efficient management and allocation.
Miscommunication
Miscommunication between the client and the developer is one of the major reasons for failure.
Be it over communication, under communication, or micromanagement, any form of miscommunication can prove to be fatal for your project.
This is exactly where offshore development companies come into the picture as they are known for ensuring seamless communication.
No testing
While developing your solution, it's very important to test it before the launch. If you don't test it then you may face the ugly blame game situation which I guess no one wants to witness.
Testing is also essential as it ensures that your software runs smoothly and is devoid of any bugs.
Damage or malfunction
When any tool or equipment gets broken, damaged, or malfunctions on the site, then it must be replaced or repaired as soon as possible so that the project can get back on track.
Often these situations are unexpected, so, it becomes mandatory to allot a certain percentage in the budget for such scenarios.
Delays and interruptions
Whenever you hire an in-house development team, then are various kinds of interruptions and delays that take place. For an instance, the in-house software development works on multiple projects simultaneously.
Due to this, many times they might give less focus to your project as they have to complete the deadlines of their other projects.
This slows down the speed of software development and also affects the quality too. Second, many a time a client gets to know about the progress of his project only when the software development team completes a milestone.
And to make the matters worse, the client realizes that it's not he wanted it to be like. This further increases the time and ultimately the cost of software development.
How hiring dedicated developers can reduce the overall costs of your project?
The biggest advantage of hiring dedicated developers is that you can save loads of money on your software development. But how? let's have a look at the top 6 ways hiring dedicated developers can reduce the overall costs of your project.
Read More: Our hiring process for dedicated developers.
Cut additional hiring cost
For your project, you may require a variety of skills and expertise which your in-house development resources may lack. In such a scenario, hiring resources full-time for that particular project may not be cost-efficient and sensible.
Instead, you can collaborate with any offshore development company and hire dedicated developers for on a part-time basis. With this, you can leverage the varied expertise and skillset of their dedicated developers.
Offshore development companies around the world are known for offering the best and diverse range of developers for your project.
Take advantage of technological expertise
When it comes to the development of the customized and complex solution, start-ups and enterprises require top-notch technical expertise and experience.
That's the reason working with inexperienced resources might not give them the desired results.
This ultimately leads them to hire dedicated software development specialists which fulfil the needs of these start-ups and enterprises by developing a customized solution of top-grade quality.

Zero training cost
IT is an ever-evolving industry where you must keep your developers updated with the latest technological trends. Training your in-house developers for these latest technologies and tools can greatly affect your budget.
However, enterprises and start-ups can avoid this huge training cost by hiring an experienced remote development team.
Only pay for the outsourced services
While hiring an in-house development team, you have to pay for each resource that you're utilizing. However, in the case of dedicated developers, you only have to pay for the services that you've outsourced.
Read More: Outsourcing Development – The Effective Startup Strategy
Choose the best strategy for the project
If the objectives and requirements of the project are not clearly defined then the developers may make mistakes while developing it. These mistakes can increase the time involved in completing the project along with the overall cost.
Enterprises and start-ups can avoid this situation by hiring dedicated developers who possess top-notch expertise. Their experience helps them to understand the specific requirements of any project no matter how complex it is.
Not only this, but they can also suggest essential changes in the development of your project which can play a crucial role in saving your time and money.
Cost comparison: Offshoring vs. in-house vs. freelancing
The biggest reason as to how offshoring reduces the cost of development is that it's cost-effective as compared to hiring freelancers or in-house development team.
As per Statista, approximately $288 billion were spent across the globe for IT outsourcing services. These services include software, website, mobile app development, and other services related to IT.
Another survey by Deloitte shows that around 53% of businesses outsource their IT functions.
It also shows that small business invests around 6.1% of their IT budget into IT outsourcing. Similarly, mid-sized and large-sized firms invest around 4.6% and 7.4% respectively.
Read More: Which engagement model should you choose?
People are preferring to hire dedicated developers than hiring in-house development team as the former is a cost-efficient alternative.
Furthermore, the development charges for dedicated developers across the world also vary according to geography.
Have a look at the below graph which shows the maximum and minimum hourly charges for dedicated developers from various regions of the world.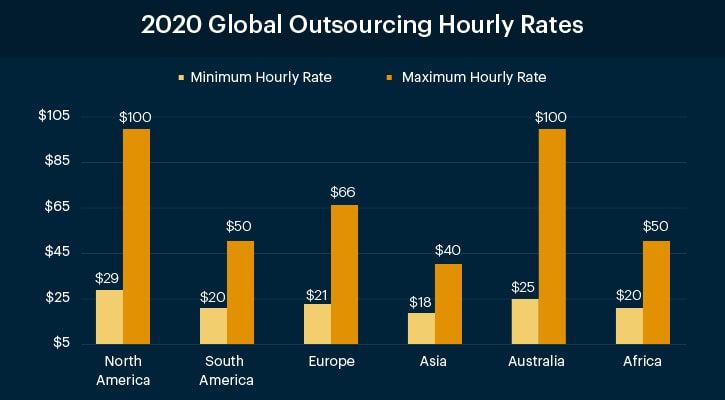 To help you understand the cost requirement dynamics among dedicated team, in-house team, and freelancers in a better way, we are presenting a cost comparison chart for the same.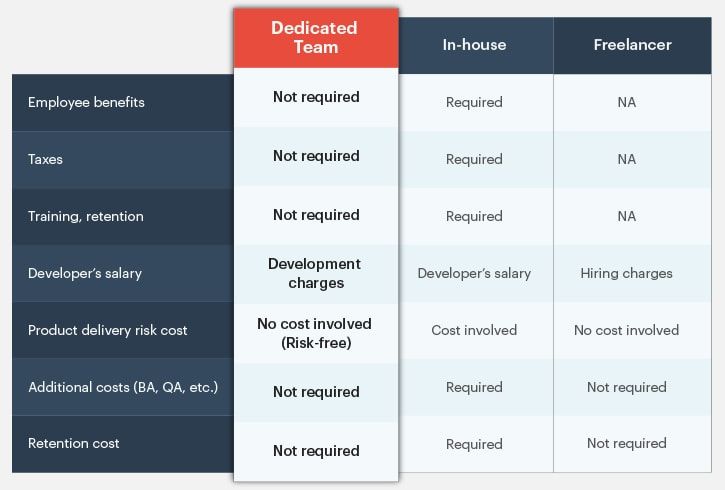 Conclusion
Software development is a difficult task. But what's more difficult is to get it done in time and budget. This is exactly where Peerbits come into the picture.
Peerbits ends your search for highly skilled and experienced dedicated developers and teams. Peerbits helps you to develop your customized software within your budget and stipulated time via our pool of dedicated developers.
Our dedicated developers are well-versed with all the cutting-edge technologies and are known for rendering solutions of top-notch quality.
You can kick-off your project today by hiring our dedicated developers for part-time, hourly, or full-time basis.