If your business needs to stay ahead of the rest, investing in custom tools and software is necessary. And one of the best ways to do so is by connecting with a software development partner who can open up the possibility to grow by addressing your requirements.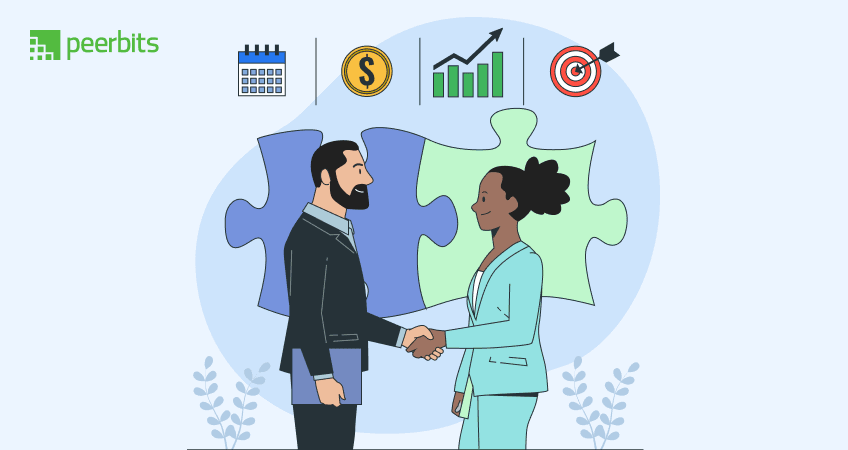 Moreover, competitiveness is at an all-time high in every industry; therefore, digitizing your business is the first step. In such a case, instead of going for ready-made software, you can go with hiring a software development company that knows how to deliver the right software for your business.
A Statista report suggests that the worldwide software market reached US$565 billion in 2021. In the current year, spending on software is expected to soar to around $675 billion, a growth of 11 percent from the previous year. These statistics demonstrate the evident necessity for choosing the best software development company.
Most businesses outsource software development partners, making it a mainstream practice. Also, the number of software development companies is continually increasing along with the demands. Therefore, choosing a trusted software development partner for your business gets difficult.
Still, it also causes the market to get overheated and makes it more difficult to choose a dependable software development partner to work with.
Therefore, here are some aspects you should consider when choosing a software outsourcing partner.
Company structure & experience
First, you would want to consider the organization's size while hiring a software development company. You may not get the attention you deserve if you hire a major software development company that deals with multiple clients simultaneously. On the other hand, large-scale initiatives may be too much for a small business.
In such a case, choosing a software development partner with a team size and business presence comparable to yours is a must. This ensures a better understanding and ensures attaining your queries promptly.
It's always a good idea to check a company's portfolio and prior work before contacting them for an initial talk to evaluate a development partner. Choose a software development company having a large and skilled team of professionals for all stages of the software development cycle (SDLC). This includes business analysts, UI/UX designers, database professionals, architects, QA experts, etc.
Once you are comfortable with the company's size and structure, consider their experience.
This includes:
Overall experience
You can analyze case studies and review their other documentation describing completed projects.
Industry-specific experience
Bonus points for direct industry experience; a good development partner has business executives or development teams with prior knowledge of your industry, services, and customers. In such a case, they can better help resolve your issues.
Talent experience
Next, speak with the company staff and workers you are looking to hire. This means not restricting yourself to the sales staff. Instead, discuss your vision before hiring a software development team, management, and each organization to get the most complete and accurate picture of how they assist, support, and please their partners.
Ultimately, you want to work with a software development partner with the necessary expertise to assist you in reaching your objectives. It is not enough to just consider the technology, brand name, or access to top resources.
Instead, you must collectively consider experience, expertise, and historical records before hiring a software development company for your project.
Check client reviews and testimonials
Once you have an idea of what the business is offering and it can fit your requirements, check out what others have to say about them. For this, you can refer to the company's online reputation in the following manner:
Check out their reviews on Clutch, Dribble, G2, UpCity, etc. and learn about their ratings from clients.
Often, these sites will have testimonials from past/present customers. Check them out to know their strengths and weaknesses.
Also, you can check testimonials on their website. Most have videos from clients. But, it is not ideal to simply rely on this one.
The testimonials on the company's website should also be considered.
See what they post on their social channels Facebook, LinkedIn, Twitter, and Instagram. Go through customer comments to check if there are grievances.
If possible, connect with their authors on LinkedIn to learn more about them. Find out whether anyone in your network has worked with your prospective software development partner in the past and get their first-hand feedback as well.
Use customer-facing review services as mentioned and ensure you get unfiltered, real feedback about clients who have worked with them previously.
Read More: Reviews earned delivering the expectations and digital products of uncompromised quality
Knowledge about the latest market trends
Choosing a software partner to create your next solution is difficult as you need to factor in aspects that are not quantified or visible. One such element involves knowledge of current market trends.
Here, categorize trusted software development partner vendors based on their knowledge of cutting-edge technologies such as artificial intelligence, big data and other sophisticated analytic techniques, machine learning, etc. This helps you know whether they can adapt to the growing demands of software if you wish to scale it later.
It is uncommon for a software development company to specialize in healthcare, eCommerce, or pharma as they work with clients from multiple industries. If they have a portfolio from the healthcare industry, try gauging their knowledge of a particular industry by identifying the technologies they implement for a specific project.
If they have worked in the medical industry, know whether they worked with the patient management system, prescription management, appointment tracking, etc.
Therefore, if you run a business in a specific industry, see if their knowledge level matches your industry-specific requirements. Onboarding a software development partner will need you to look for a provider with previous expertise in the field. Check their website and previous clients/projects for the same.
When hiring a software development partner, get into the conversation with company representatives who will guide you through their specialties and industry-focused services, giving you a deeper grasp of their capabilities. If necessary, you may also request a quick project tour to judge their previous work.
Cost analysis
This factor can make or break your project with the software development company. Roughly 28% of projects fail to owe to erroneous project cost projections. Therefore, depending on a software development firm, it is vital to concentrate on the software development cost.
The following factors would widely emphasize the cost of your project:
Choose the pricing model (more on it later)
Location of the software development partner
Technology stack used by the development agency
Team expertise
Current customers (expect a high cost if the demand is high)
Pricing models
Hiring a software development partner necessitates investigating the pricing methods each company uses. Here are some of the key pricing models that you can consider.
Fixed price
The price approach used by software development companies has its pros and cons. You'll get good outcomes on time and won't have to make changes. This model is based on a price agreement before starting the project. If you need changes, the cost may go up.
Time and material
Time & Material (T&M) is a model that only looks at the cost of resources, such as the contractor's salary, the cost of materials, and, in some cases, the average of fixed charges. This means that the value and size of the project can only be estimated as a rough sketch. Here, you can modify your project and accordingly pay the charges. The needs of a project are subject to frequent shifts in the external environment.
Dedicated team model
When you hire offshore dedicated developers, you receive experts chosen for your company goals. This team will work as if they are your in-house staff. They will have specific roles and billing hours. This helps you focus on higher-level business challenges while development partners execute the rest.
A dedicated team approach gives a hand-picked professional team focused on one project. Plus, they cover administrative costs.
ODC (Offshore Development Center)
You can hire an offshore software development center that operates outside your country as a branch of your business. On average, ODC locations are less expensive to live in than your company's headquarters, which helps you tap on the affordability factor.
The project development cost highly depends on the number of hours worked, type of pricing model, and modification during the project.

Define your technology stack
Today's ever-changing technology landscape demands software development companies to adopt newer technologies. Organizations must watch emerging innovation trends to stay on top of the newest technological developments. And this is usually reflected in their methodologies, solutions, tools, and technologies.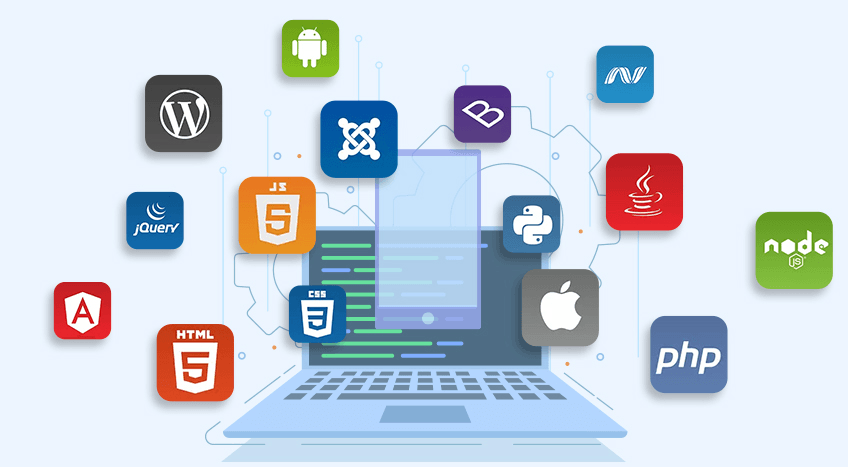 Therefore, consider the technology and innovation when hiring a software development partner. This also includes their coding standards, QA methods, powerful tools, and access to modern software development frameworks.
Their understanding of how multiple technologies work together is also important. Here, you need to determine whether their present systems are compatible with the tech stack that your project demands.
Investigating their past, current, and prospective technologies in-depth help weigh the advantages and disadvantages of hiring them as your software development partner.
This will eliminate the bottlenecks that may arise due to a lack of technology resources and drive efficiency by using the right tools that provide necessary functionalities.
Your software development partner should also have a testing and debugging schedule if you need to access the project ahead of its scheduled launch. A good question is whether the business can develop several tech stacks and test them all simultaneously.

Consider different types of outsourcing
With a trusted software outsourcing company, you can access worldwide talent pools, ensure knowledge and expertise, and reap the financial benefits of outsourcing your software development. On top of that, it assures that their goods will be developed quickly, evaluated, then implemented at a low cost.
There are four major subcategories for software outsourcing companies. You may better grasp the issue by reading our brief explanations of each one below.
Onshore
If the firm you pick is located in the same nation or area as you are, you may form a partnership or model like this. You may meet with the firm anytime and address your concerns face-to-face. Having quality assurance and control in place is a benefit, but it also has drawbacks. There may be a lack of technology or skill, but you have the flexibility to visit developers personally and see how things are progressing.
Offshore
A software development firm in an offshore location is said to be providing "offshore" external help. If you need software developed, you may hire a company in another nation to do it for you. Hiring a software development outsourcing company is far less expensive than doing business with an onshore firm.
There are several countries to which you may outsource — India, Ukraine, Dubai, and many more. Work may be done at any hour of the day or night because of the time difference. Using remote working technologies may help close any communication or cooperation gaps that may arise due to time and space differences.
Nearshore
When you outsource the software development project via the nearshore method, you are ideally engaging a company near your country. It is the one where you generally share the same time zone.
Nearshore outsourcing for software development helps better control and manage the process. Nearshore outsourcing is more cost effective than onshore outsourcing since it doesn't compromise quality.
This option enables you to visit nearby countries, overlook on-site development, and expedite deliverables if needed. Also, there are no fixed locations for nearshore. For instance, if you are in Germany, any European country works nearshore. Similarly, for companies based in the USA, Mexico is a nearshore.
The nearshore approach is highly beneficial for businesses looking for scalability and competitiveness to match the growing demands in the software development industry.
Hybrid
The term "hybrid" refers to a brand-new outsourcing model that many firms consider these days. They provide a blend of offshore and onshore services to facilitate communication and cooperation while lowering expenses.
If this is the case, the firm's primary development team or tech professionals are abroad, but the company's accounts manager or PM is in the same nation. Similar to outsourcing, it reduces the development cost while minimizing communication gaps.
Organizations need to consider these models when they hunt for software development partners. They must examine the most important aspects to guarantee that they've made the appropriate choice.

Ask questions
Now that you're considering hiring a software development company that could meet your needs, it's time to ask some direct questions. Don't shy away from asking the tough ones as you rely on them for your business.
Once you know their experience, expertise, and cost estimates, ask questions about each phase of software development. Since 70% of software development project fails, ensure that yours won't be one of them. Ask questions about how your partner will handle various software development life cycle challenges.
Watch how the firm manages its internal operations. We suggest asking what tools they use to delegate assignments to experts and maintain statistics and KPIs. Ask about staff management to determine the company's values and reputation.
Find out the average skill level of developers working on your projects (junior, medium, or senior) since this affects prices and appropriateness. It is best to seek answers from heads of all technical divisions and learn about their experience, depth, and career progression to ensure their positions are justified.
Answering such questions will help you know about employee life-cycle flow as a software development partner — from recruiting to career advancement. Make sure their status matches their talents.
Ask for Linkedin profile links of key company experts to see who they are, how long they've worked in the field, and how long they've worked in the firm you're partnering with.
See the company's difficulties and solutions. It indicates how well they can solve challenges with your help.
Ask for resumes of the project professionals. It would be a pleasure if they knew many programming languages and had expertise in your sector.
Knowledge of software development methodologies
After grilling the software development company, you need to get into the crux of how they get their things done. Here, inquire about your software development partner's methodologies and engagement models. Identify whether they adhere to the Agile or a Scrum process.
Also, know if the development and engagement tools they use are up-to-date. Today, each software development business must have a working grasp of agile development practices.
As opposed to the now-outdated waterfall approach, agile development offers various advantages. They may create your MVP faster and at a lower cost using Agile methodologies. Therefore, before hiring a software development company, know whether they are comfortable with Agile, Waterfall, or Scrum methodologies.
There are ways and methods for judging a software developer's skills and abilities in more subtle ways, which include methodologies. When all of these techniques are used together, you can make a screening process that has been proven to work. If you're looking for a software development company, be sure it's adaptable enough to evolve with your software requirements.
Communication
Communication is critical when building software, especially when your software development partner is from a different country. Several factors should be considered when choosing a trustworthy software development company, but communication should not be overlooked.
Here, you can speak to developers, project managers, and other team members in a common language (English, for example). Evaluating your software development team based on this criterion is important for overall project outcome as it drives efficiency when relaying information.
Ineffective communication may be caused by various factors, including a lack of English proficiency, emotional intelligence, or even a difference in cultural background.
Always ascertain that there is no misunderstanding or a lack of communication. In other words, you should keep an eye on your chosen method of communication and ensure that you both have the necessary tools to run well.
Businesses may generally have excellent sales representatives fluent in English, but their development teams may fall short. As a result, make sure to meet with the project manager assigned to your particular project.
Conclusion
Hiring a software development partner can overcome the shortage of skills that you might experience within your company. This requires you to come up with a plan and finalize the cost before moving forward.
An ideal partner for software development will help you realize business goals, ensure cost-effective solutions, and drive project deliverables promptly.
You can follow the checklist mentioned above to make a wise decision before hiring a competent software development company. A reliable and experienced partner will provide top-notch output, hassle-free development, and a robust final product that can define the success of your business.

FAQs
They start with exploration, getting to know your business and its present technology in depth. They then assist you in identifying the precise products or applications your company needs to achieve your objectives. Software development partners who provide unique business process automation solutions have a clear and comprehensive methodology that is centred on communication.
A software development team partner is someone who helps build digital assets, manage them, and increase their utilization. Using digital technology to develop your clients' company is easy. They will provide your business with the necessary tools, technology, resources, and talent. This ensures faster turnaround, quality results, and timely software deliverables.
A strong web presence signifies that an app development partner provides high-quality services. That's what you'll want to double-check. It's unlikely that any development partners will share anything about their initiatives online.
A non-disclosure agreement (NDA) has been reached with their clients. You may, however, look at their other publicly accessible work. You'll be able to see more of what they're capable of as a result of this.
A good software development partner can assist you in calculating the overall cost, brings in necessary expertise, and provide quick results. Therefore, discovering a software development partner would need you to consider all aspects of the project — concept validation, prototyping, market study, blueprinting, etc.
Therefore, you can select a company that helps your business after finishing the project as the product will need maintenance and updates to meet your evolving needs and those of the market. Following the aforementioned tips will aid you in making the best choice.