The last decade has brought many changes, especially for companies modern globalization, cutting-edge tools, innovative technologies, and access to new cultures. Having said that, one advantage that has gained much traction lately is the ability to work with global talent.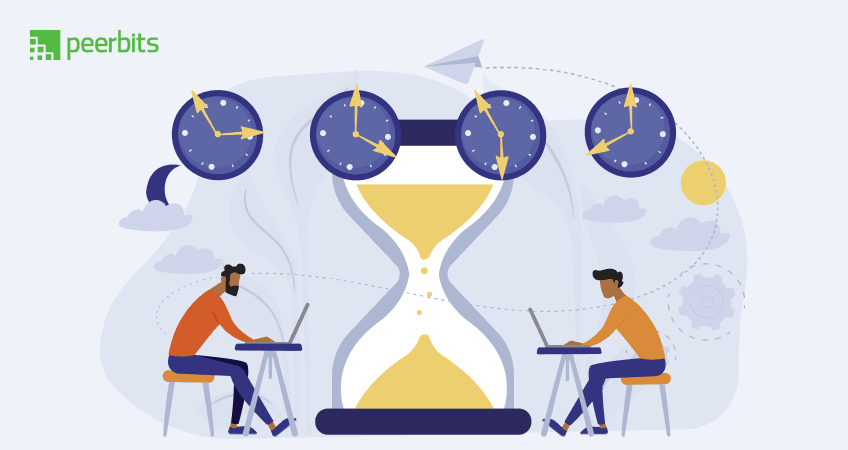 In 2022, companies can seamlessly hire developers without worrying about geographical restrictions. For instance, you can manage an offshore development in Connecticut or Massachusetts no matter how remote your place is. As long as you have steady Wi-Fi, anything is possible. And that's the level of flexibility that distributed teams have.
Time zone difference-the biggest challenge
There is absolutely no doubt that the benefits of hiring an offshore software development team outweigh the drawbacks. That being said, one disadvantage, at least what most businesses think, is the time zone difference. The time zone difference is more than just communicating with the offshore teams.
If not managed efficiently and strategically, collaborating with teams across various time zones can result in miscommunication, delayed delivery timelines, and missing milestones and sabotage the whole project, ultimately putting a dent in your pocket.
As a leading company with the best offshore software development teams, Peerbits has picked up a few tricks and tips along with the way that will assist both the offshore teams and businesses in managing the time zone difference.
Seven tips to handle time zone differences with offshore software development teams
Daily communication
Let's make this clear--Daily communication is not the same as micromanaging. The daily communication with the offshore development team will enable compliance with the manager's reports, who will share them with the other team members. This will help both parties avoid resources and time due to misunderstandings.
Ensure to create a schedule of calls with the team members according to their time zone. No matter which corner in the world your offshore development team is in, you could easily find one hour during the way day to have a brief call.
Implement smart hiring
In other words, you need a competent team. For instance, if your offshore software development team cannot work under minimal supervision and needs hand-holding throughout the day, you have hired the wrong people.
Considering the time zone difference along with the additional help they need, it will take ages before you launch your software. That is why it is essential to hire an experienced, dedicated offshore development team who are reliable and self-motivated and can easily manage their tasks efficiently.
Keep the time zone visual handy
Keeping a hard copy of the time zone of your offshore development company will make it easier for you to manage and schedule calls. If you think you could just memorize the time difference, you could try, but time zones can drastically vary. Even the slightest mistake in remembering the time difference could lead to rescheduling or cancellation of calls.
So it is better to keep such important information in a visual format on your smartphone or PC. For better understanding, here's the time difference between the USA and other popular offshore development countries.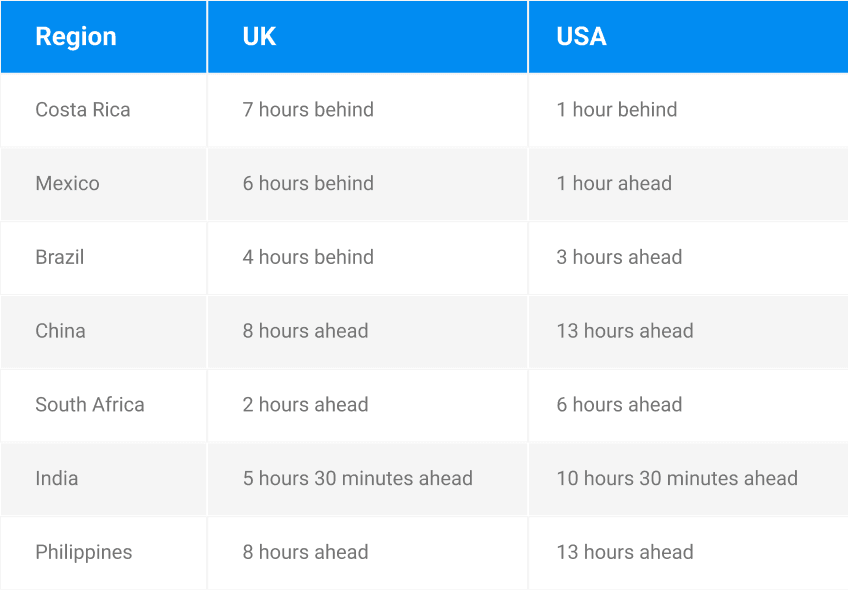 Avoid micromanagement
Once you have decided and set effective communication channels, efficient management tools, and scheduled calls, ensure you have a single PoC (Point of Contact). The objective here is to avoid confusion that could be caused by having more or unnecessary people.
What's the point in hiring a competent development team when you cannot trust them and end up micromanaging everything? Hence try hiring offshore remote developers who are reliable and experts at what they do.
Invest in good management tools
If you struggle with scheduling meetings/calls, coordinating with other team members, and other management issues, you are not using the right tools. A better way to handle and manage the time zone difference with offshore development services providers is by utilizing efficient time zone management tools.
How do these tools help? Most time zone management tools come with an easy-to-use interface that lets you keep track of the local time in the regions where your offshore development team is located. This will enable you to plan and schedule the meetings seamlessly.
Some tools let the users enter multiple locations and view the times so that the users can plan their meetings effectively. World Time Buddy, Spacetime.am, Timezone.io, and World Clock Meeting Planner are some of the best time zone management tools.
Agile practices
Have you tried everything to handle the time zone difference, and nothing is working out? Then it's time to adopt agile practices. Utilizing agile methodologies for remote working teams can increase productivity and performance, further enhancing project visibility and ensuring every team member is on the same page. More than 70% of companies across the globe are implementing the agile methodology in their projects.
For example, the project manager can divide the tasks into minor activities and assign them to the teammates. After assigning, all tasks can be tracked via efficient project management tools such as Trello and Jira.
Such tools also let the team members schedule meetings like daily scrum calls and other essential planning so that every team member knows what they need to do.
Embrace flexibility
Access to global talent comes with certain restrictions. And the best way to handle such limits is to be Okay with them. Just because your offshore development team cannot turn up for a quick 10-minute meeting doesn't mean you don't work with them.
Instead, create schedules and plans that are convenient for both of you. Plan your meetings with offshore teams a week ahead to let them know when you will be available if they need to reach out to you.
Benefits of hiring an offshore development team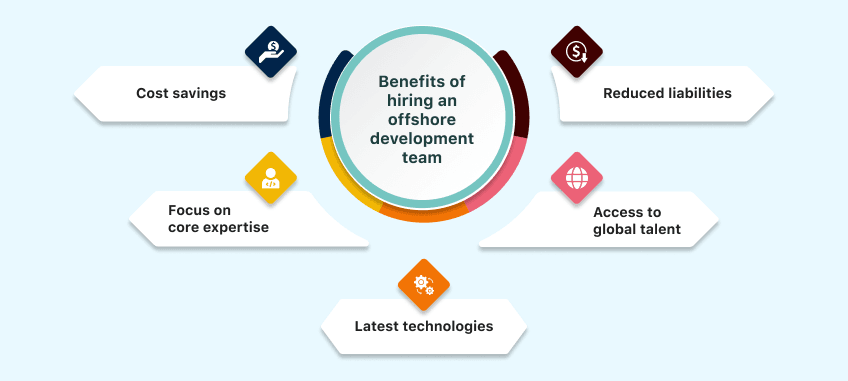 Cost savings
Compared to hiring a new in-house team, the cost of having an offshore software development team can reduce your costs significantly. Of course, no specific amount can be guaranteed as it will depend on which country your offshore team is located. You can expect to save anywhere between 10 to 15 percent.
Focus on core expertise
Software development projects like web application development or blockchain technology demand time and focus. Outsourcing software development services allow companies to share technical job responsibilities with offshore developers without changing their focus from the core business.
Latest technologies
Offshore development teams will get you access to the latest, cutting-edge technologies that local teams can't get hold of. Dedicated offshore development teams spend more time improving their knowledge and skills by learning new technologies.
Read More: Launch your next-gen software using the latest technology with Peerbits
Access to global talent
Choosing offshore development teams will open a global talent pool for you to work with. Companies can get specialized talent, especially for advanced technologies like Blockchain, AI/ML, etc., that need expertise and industry knowledge to bring life to ideas. You pay for only what you want by choosing an offshore development team.
Reduced liabilities
One of the most significant advantages of hiring a dedicated offshore development centre is that you do not have to provide them with a cubicle or office resources. The offshore team already has everything it needs wherever they are located.
Final thoughts
The challenges of managing an offshore team are not as significant as you think. Yes, they are trickier than managing an in-house team, but not impossible. You can efficiently deal with time zone differences with offshore teams by communicating correctly. Use the above-mentioned tips, and you can expect an efficient project development and delivery process.