Let's face it. The way customer expectations are increasing in today's highly interconnected world, businesses are going under a great pressure to accelerate their product development lifecycle and to increase their pace of product innovation.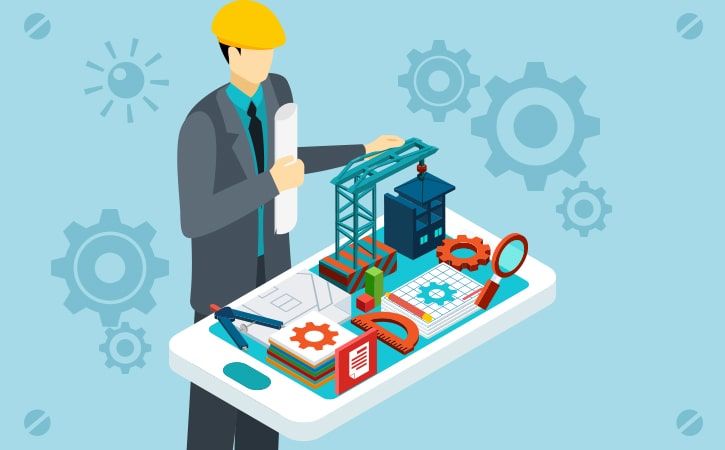 In addition, building complex software in today's competitive market not only demands profound expertise in latest technologies, but it also requires a sound knowledge and understanding of the business domain.
In fact, the most critical challenge faced by almost all enterprises today is evolving their product elements consistently.
And that mainly includes reducing enterprise app development time, optimizing performance, and enhancing its overall quality.
In short, the product engineering services is experiencing a lot of action due to the growing demand for appealing user experience & exceptional functionalities.
As a matter of fact, it has now become kind of necessary to embrace product engineering services to develop and launch contextual products at lesser costs, while also ensuring customer satisfaction and product success.
What is product engineering?
Product Engineering means having the discipline of managing product development efforts to follow a predefined approach, while considering the entire realization-cycle, starting from its idea to the marketable product.
In simple words, Product Engineering is basically the process of developing, designing and testing a purposeful software, app, or business system.
It provides your project the required extra edge to further improve its quality, functionality, reliability, and lifespan consistently.

How to know when to embrace product engineering approach?
Whether you want to build an app for mobile, an ERP software solution, or a desktop application, there is no doubt that the final product needs to be of highest quality and must satisfy the target customers' needs to succeed.
And Product Engineering approach helps you achieve just that. For instance, let's assume that you've identified a market gap – a problem that many people are facing, and you come up with a software solution that solves it.
At this point, a prominent software development company can help you evaluate your product idea from all angles, map out various solutions with different outcomes, and help you select the right solution which would be the most effective for your idea.
What does the product engineering services include?
There are mainly three Product Engineering Services which are explained below.
Custom enterprise app development
It means, developing a scalable solution to support business and execute key operations smoothly from marketing automation to employee collaboration and more.
New software integration
This service basically involves from improving a mobile strategy to integrating new software into an Enterprise through well-built features, third-party APIs, and analytics integrations.
Legacy software modernization
This one is a very effective service, especially for the enterprises using outdated softwares.
The outdated softwares usually cause many problems i.e. making employees compulsory spend more time working than needed due to its functional limitations.
But, by modernizing such legacy solutions can help your employees become extra-productive and increase their job satisfaction.
Phases involved in product engineering
If you're considering to follow Product Engineering methodology, it is of utmost importance for you to first gain knowledge about all the phases involved in it.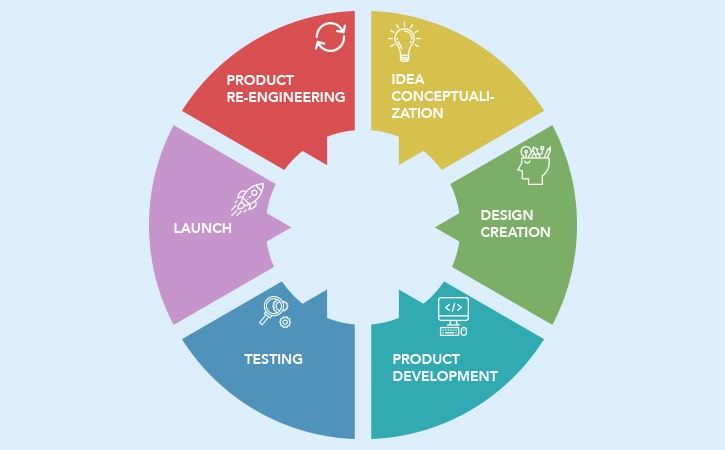 Therefore, let us shed some light on each phase of product engineering approach.
1. Idea conceptualization
In the first phase, the product engineering team focuses mainly on conceptualizing your idea by creating its documentation, which defines the project requirements, goals, and specifications.
Once everything is put into the document, each functionality or goal of the project is further discussed and validated to see if it can be molded as your business requires or not.
2. Design creation
In the next phase, the product engineering team creates meaningful designs for your project once all the elements have been discussed and finalized in the first phase.
In addition, if you want some modifications in the idea, then they are all done here at the design phase.
3. Product development
In this phase, the product engineering team develops the solution based on the designs and requirements finalized during the first two phases, using Agile methodology.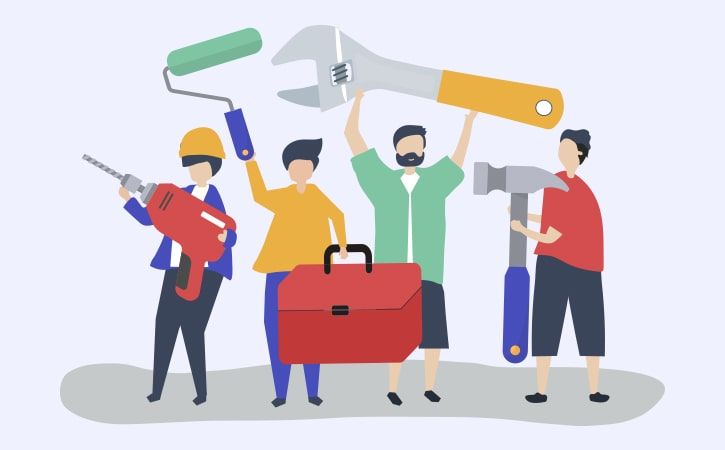 The team conducts regular meetings with the client (that's you!) every two weeks to show the code and developed features.
4. Testing
Once your project is developed, the team tests it on stiff circumstances to check if it meets all expectations. At this phase, the client should take time to conduct a thorough test of the entire product to ensure that there are no errors.
While the product engineering team will definitely test the entire product in and out, but it's always helpful to get deeply involved in the testing phase to double check everything.
Read More: Challenges of testing mobile applications
5. Launch
Once you and your product engineering team is completely satisfied with the final product and are fully-assured that it is ready for the end-users, you can plan to launch your product in the market.
At this point, however, do not forget to take feedback and suggestions from users to understand where exactly the product needs improvements in the further updates or new versions.
6. Product re-engineering
Like just mentioned, once your product is launched, you cannot just sit back and relax thinking that your work is done – Because it's not.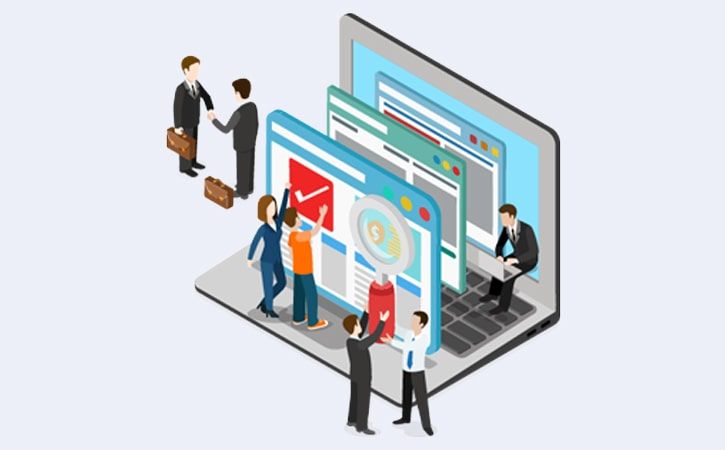 You've to continuously update your product from time to time to make sure that it maintains the same standards. Plus, you would also have to re-engineer your product if and when there is a better technology available.
Simply put, you must refuel your product to increase its lifespan and to evolve it in a better manner to meet the changing demand of today's customers.
Priceless benefits of product engineering services
Overall, Product Engineering helps to create a clear roadmap to drive a successful delivery of project. But, there are many more benefits that product engineering approach offers. Let's discuss one-by-one.
First of all, everyone knows that the technology is evolving at a rapid speed, and due to the competition, you've to embrace these latest technologies immediately if you don't want to fall short.
The product engineering methodology holds capabilities to develop best-in-class functionalities that can turn around any business in short time.
The Product Engineering approach also offers the best flexibility and compatibility to host third-party services and platforms at ease with the help of system operability.
Lastly, by embracing product engineering methodology in your software product development, you can concentrate on pre-planning strategies for your business, while there is a professional outsourced team of IT experts who handle and take care of your entire project development.
In short, Product Engineering approach is a better way to develop software, system, or apps compared to any other methodologies combined.
Key to any product success – finding the right software development company
As mentioned in the beginning, finding the right software development partner is critical. So, remember that the right outsourcing IT partner should stay agile and suggest new revenue streams for business.
In addition, that IT partner must also offer solutions for your niche and has at least five years of experience.
In a nutshell, to identify the right outsourcing partner, look for the following criterias:
Industry Expertise
Portfolio
Track Record
Testimonials
And overall experience (the more years being in the market, the better.)
Conclusion
Even though Product Engineering is relatively new for many enterprises as well as businesses, embracing it has already proven to be helpful in terms of accelerating the overall business operations.
If you still don't believe it, just give a shout out to our product engineering experts in the form below and they'll make you a believer!