Who does not dream of a successful business? Who does not want cost-effectiveness when it comes to developing a mobile application? With the advent of mobile technology, many of the businesses are transforming for the first time in the digital age. It demands a certain amount of business dynamism to splurge in the ocean of mobile app development. Moreover, once you identify why your business needs a mobile app, the real thrill starts.
The entire process of determining the app platform, till the market deployment leave your brain-drained. Not only this, but it also affects your business functions by disturbing its robustness. So, one of the best questions to ask after deciding the app platform is – "Is it better to get an in-house app developer or should I outsource it offshore?"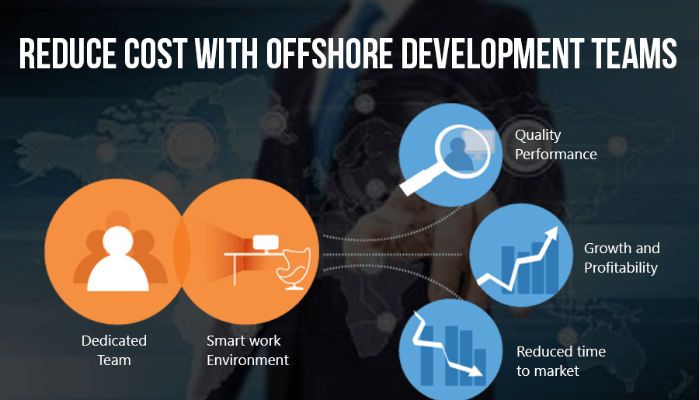 Well, we already are aware of the pros and cons of both sides, and therefore, the most efficient solution is the middle one – hiring a dedicated virtual employee for developing a mobile app.
One of the most popular platforms to build complex and interactive mobile apps is an Android. Android app development yields tremendous results in the construction of effective, business focused, and strategy-driven mobile apps. If you have an idea of an android app for business, the best way is to look for skilled, experienced, and dedicated Android app developer, offshore.
It is easy to believe that onshore employee is better because it gets easier to identify the right ones via a healthy direct interaction. It is something pretty much like a psychological block rather than a logical validation.
Hiring a virtual offshore employee has its ups and downs, but it is bound to give you some prolific learning and unique advantage over hiring an in-house or onshore developer.
One of the most favored locations to go offshore with virtual Android app developers is India. Here, the concept is to hire dedicated developers, assigned to work only on your project. Considering the lowest hourly rates of Indian Android app developers blended with highly polished skills, it has become obvious for businesses to hire virtual manpower from India. This decision can drastically cut down the development cost and also saves you time and energy to work on the core business goals.
It is possible for a business to yield significant benefits of hiring a dedicated virtual Android app developer.
One of the biggest advantages of hiring an offshore android app developer is leveraging on the cost and time effectiveness
Leveraging on cost benefits
If the hourly rates of hiring onshore app development employee are higher in the country you reside is app more, then it a wise decision to hire an offshore virtual Android app developer elsewhere. As a simple question, Why to pay a local developer $100-120/hr. when you can get the same work done for a quarter of the cost, or less, from another country?
Gaining on the labor arbitration
Labor arbitrage is one of the biggest advantages of hiring a dedicated offshore android developer. Be sure to get more bang for your buck for getting done the "same thing" elsewhere. Plenty of entrepreneurs think it does not make sense to pay more for someone local. However, the advantage of labor arbitration is buckled when local costs are equal, and therefore, in such cases, hiring locally generally trumps outsourcing.
The advantage of short-term commitment
Perhaps, this is the most underrated advantage of hiring a virtual app development employee. Consider the scope of such hiring; it possesses an unmatched ability to rope in an expert on a project basis without committing long term. Here you also eliminate all the onshore hiring associated costs and paying the associated costs.
No establishment costs
You bear no establishment cost for developing an android app. Also, you need not worry about pulling the resources for the development process. Also, it makes no sense in crafting a temporary, dedicated setup for developing an android app. It is ideal to get an offshore developer and save your business from spending some hefty bucks in pulling the required resources.
No office distractions
It gets tricky to find a perfect place for developers to work within the corporate office if you are in a different industry – like, food business, or a financial service provider. The reason being, app developers, requires dedicated space and time to work. Moreover, it gets difficult for developers to work in a corporate setup where of the operations are anything but technical. Such things may lead to frequent distractions as app development is a skill-based task not just about management. Small talks here and there are very frequent in offices while developers may need their piece of peace.
Such makeshifts are little difficult to make in an already operational office. Also, considering that a developer's work is only for few months, this decision is not worth taking.
When you hire dedicated virtual employee offshore, they are already working in an app development setup or the environment. Moreover, with this, things get easy and fast.
Hiring a dedicated Android developer offshore gives you the opportunity to choose from the wide range of experts, globally. Imagine the scenario where the expertise can be picked up by experience, efficiency, and capability. It is possible to keep track on the project with the help of project management tool.
Also, you can stay connected with the dedicated virtual employee over email, chat or phone. One of the effective ways to maintain transparency and gauge the milestone efficiency is by using, an agile software development framework. With the Agile methodologies, it is possible to maintain disciplined execution, blended with continuous innovation. Scrum is a perfect platform as it allows businesses to self-organize all offshore projects. It ensures that all the project participants follow the same framework.
Also, hiring a project manager can fix the time-zone glitch. Getting a Project manager who is in the same or a nearer time zone is always a safe bet. Project managers provide a buffer between clients and developers. Also, they fix the communication gap, thereby smoothening the entire process as well.
To self-reflect on this thought, I'd recommend asking yourself these questions:
What am I looking for in a developer?

How much time do I have to spend doing the search?

Can I write comprehensive technical requirements and judge how well the code is written?

How important are collaboration and feedback to the success of my project?

Where does cost fit into the equation?
Once these questions are answered, you must choose the right path by talking to fellow entrepreneurs. Because, if you go this route, it is best to carry a variety of perspectives for best patterns and practices.