The evolution of smartphones in the developing world is a key driver for the improvement of the market. From mails to banking solutions, we continuously use our mobile devices for our daily tasks. So there is not a huge surprise that NFC payments are transforming the world. NFC is a contactless technology that provides an exchange of data among NFC permitted devices.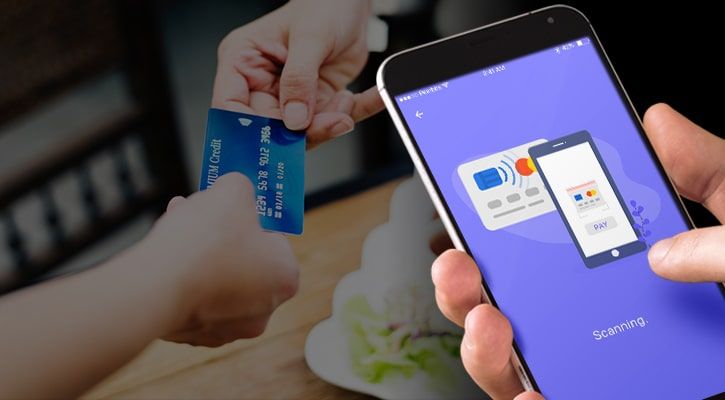 The NFC trade has reached USD 17.5 billion approximately in 2020 and now it is estimated to reach 39.8 USD billion by the year 2026. By 2024 globally forecasted mobile market size is assumed to be around 3 trillion.
NFC payment has diverse benefits such as providing secured transactions, convenience, and versatility.
Technological advancements have undoubtedly made it easier for end users to get done with daily activities.
Its new technology called Wireless Sensor Network system that utilizes mobile phones to carry out a wide range of entertainment and business activities on all the possible levels.
Interestingly, it allows end users to conduct payments and transactions over mobile phones itself. They are blessed with this facility due to the tremendous growth of NFC, i.e. Near Field Communication.
The market for smartphones that imbibe NFC is also growing rapidly.
What is NFC?
NFC is a wireless communication technology that enables end-users to exchange the data between different devices that are placed far away from each other, via RFID readers and beacons.
It allows them to carry out the transactions without much hassle as it is a little energy and a low-cost communication technology.
NFC concentrates on customized communication by enabling secured intricate data exchange between the two users in a less intrusive manner.
NFC also enables retailers to enhance the in-store experience to cope with immense competition.
Convenience and time are two factors that shape up customers' preferences.
Customers either go to retail stores because they do not want to wait for their order to arrive at their homes, or they prefer online shopping as it is quite convenient.
Moreover, the main point is to make it incredibly easy for them to get done with the entire process of purchasing a product.
NFC uses electromagnetic radiations to transmit information between two devices, i.e. beacons or RFID tags and helps users in carrying out a transaction without much hassle.
Few markets across Asia, Japan, and Europe have started using NFC for enhancing the payment experience. However, people are still supposed to embrace this technology by implementing it in a broad way.
How do NFC payments work?
NFC(Near Field Communication) empowers two devices to communicate wirelessly when they are nearby. When the payment device and reader both are close together and activated, then there is an exchange of encrypted information from the NFC chip that accomplishes the payment.
With this simple process and multiple advanced features, NFC payments are now considered safe and reliable methods for all types of payments. Most of the digital wallets payment apps utilize NFC technology for enhanced security.
Another feature of NFC is that it can connect with only one mobile device at a time so it reduces the possibility of nearby users accidentally paying bills for someone else. It also permits users to save diverse credit and debit cards on their smart devices and they don't have to hassle regarding carrying their cards.
NFC payments are ruling over the world as making an online payment is growing rapidly. So let's have a look at some of the leading NFC payment applications that fulfill your criteria.
Leading NFC payment application
Google Pay
Google Pay started in 2018 and with the help of this, you can make your payment easily and securely. Google Pay also permits you to add payment details and then you can carry out your payment either by using a bank account or by just entering the phone number of the user.
With this payment device, you can check your bank balance that is linked with your account.
Apple Pay
This app is around 2014, it permits users to make contactless transactions at the stores. You don't have to save your credit card information or numbers, it will make a virtual account number.
If you need additional security you can also pick a certain digit code so if an attacker tries to steal from a merchant payment device, they will not be able to redeem any data. Thus card data remains safe.
LifeLock Wallet
Lifelock is recognized as an identity theft protection service, and it has introduced its own digital platform known as Lifelock Wallet. It also permits saving card details, insurance, other card information, etc and also offers device protection.
It has the ability to scan more than thousands of transactions per second to identify and alert users about any type of threat or fraud. In a rare case of identity theft, a restoration specialist will come to the rescue.
MasterCard PayPass
It is a P2P payment app and permits consumers to pay for purchases at merchants who have PayPass terminals.
With the assistance of smartphones, and user cards all electronic encryption is different for every mobile payment transaction. All the data and information are safe and secure against any loss or theft.
Visa payWave
This method is used widely as it is contactless technology and is one of the most secured NFC Payment applications. This app will authorize you to spend minimal time at the money counter and allow you to do other important tasks.
It consists of an integrated computer chip to send and receive payments and it is operated on a magnetic tape technology that gets processed by the same reliable payment network.
Phone Pe
With the help of this app, users can send or receive money, pay for shopping bills, electricity bills, recharge, and much more. In addition to these, users can also book cabs, order food, book flight tickets, etc.
This app works on a unified payment interface system and the user has to give bank account details and develop a UPI ID. For this app, consumers don't need to recharge wallets as the money will be directly debited from their respective bank accounts.
Advantages of integrating NFC in mobile apps
Gives augmented shopping experience to customers. Zaptap effectively utilizes NFC technology by connecting customers to a webpage that is featuring product/service information
Improves customer service by taking away the hassles of paying at stores by creating efficient ways like. A simple NFC tap from a mobile phone can solve problems with a blink of an eye.
Added security to your wallet even if in case the smartphone gets stolen, the two-step authentication method prevent your money from getting fraud.
Improved convenience in case of faster payments as it really eases up the payment process for the customers.
Lowers down the operational cost as alternate payment processing system saves money on paper and human resourse deployment for the same.
Implementing NFC for payment system
It is estimated that NFC payment systems will witness an exponential development shortly.
In the retail sector, NFC brought a significant change since the time Google introduced NFC-oriented wallet payment systems that enable end users to carry out payments at local retail stores with a few clicks on their smartphones.
In 2012, the attached NFC devices into product tags and ensemble stores with mirrors that are digitally advanced to enhance customers' experience.
This innovation enabled them to view how a particular dress is crafted when they try it out in front of a mirror
With the help of NFC, various payment solutions can be developed that will make the process of paying easier at each and every NFC point.
Recently, there are various retail stores, petrol pump stations, and restaurants that have started using the contactless payment system through smartphones.
NFC in mobile apps
With the immense growth of NFC infrastructure, the scope of mobile payment has increased at an exponential rate.
Moreover, these payment systems are based out of highly intuitive UI, and they provide end users with a highly satisfying experience.
The presence of other innovative elements and various business prototypes ensure that this type of payment system will grow.
Moreover, end users are simply supposed to install the concerned applications on their Android phones to be able to make contactless payments.
Various applications enable end users to make non-contact payments, for example, Boon.
Once you download this application, you need to register, and you will be able to carry out transactions efficiently in a short time span. It is highly dependent upon prepaid MasterCard.
Moreover, it also provides end users with a transparently clear outlook of all the transactions and payments.
Recently, Peerbits developed an Android app Flashtag which uses the Mobile NFC Technology. It allows its users to transfer and receive funds via Near Field Communication.
Moreover, the user can also scan the NFC tag to retrieve vital information. All these activities are made secure via PIN protection.
Utilizing NFC effectively
Plenty ofThis departmental store in the US utilized NFC to enable end users to be aware of more styles and colors that they offer. Moreover, it also allowed them to check whether products are available on online platforms or not.
Bon-Ton implemented this technology in over 30 stores.
With the implementation of NFC in few stores, Bon-Ton got positive feedback from customers and end users tended to enjoy the process of using NFC as they found it quite useful.
One more thing that captured people's attention to a large extent is that it is also easy to use.
Read More: 9 Ways to improve security of mobile banking apps
Security concerns
No matter what the mode of payment is, security will always remain a major concern for all its parties.
Especially, with the electronic payment methods there are always security concerns, and NFC is no exception. So, let's see how serious are these concerns.
Eavesdropping
Eavesdropping is a phenomenon when someone "listens" to your transactions. Technically speaking it happens when someone intercepts and obtains the information.
However, this threat is minimal in NFC, since the devices must be placed closely to send the signals and these signals are difficult to intercept.
Secondly, in case of NFC based payments the data is encrypted and decrypted only with an authorized device.
Additionally, NFC chips aren't always active. For example, when your phone is locked the NFC devices don't send any data. They become active when you want them to be.
Data manipulation
This happens when someone attempts to corrupt or manipulate the NFC transmission data communication. However, this risk can be effectively mitigated by with the use of secure channels.
Device theft
Another key threat is of device theft. If someone steals your device then that person can make payments through NFC and no encryption would save you.
However, this threat can be taken care of by taking simple steps. One of the step is set-up a passcode.
Some devices have a feature like fingerprinting scan or lock which helps to eliminate the risk of NFC misuse.
Security measures
All the above-mentioned security concerns are closely observed and are dealt with the help of appropriate security measures.
These security measures are both inherent and made to provide that extra layer of protection.
Proximity
In Mobile NFC Technology the devices must be closed within 4 cm to communicate. Due to this proximity it becomes difficult for the attackers to execute their attacks.
HCE
HCA which is also known as host card emulation, emulates the physical card. It stores the secure account information on cloud instead of saving it on device itself. Android Pay uses HCE to complete secure mobile payment transactions.
Secure element
NFC usually works through a secure element which is in the form of a tamper-resistant chip having sensitive data in it.
However, in NFC mobile payments the secure element is stored within the device and it communicates with the NFC-enabled receiver to complete the transaction.
Drawbacks of NFC payments
In spite of having high speed, security, and other benefits there are some factors that you should be aware of when it comes to the NFC payment system.
As NFC-enabled biometrics is a safe and new technology, the cost to purchase a smartphone with the required technology is quite high for most of the users and thus not everybody can opt for this technology.
There are still many people who have not started using NFC payments as it has more complex procedures compared to other easy options.
It works only on a short distance that is around 10-20 cm and also offers low data transfer rates that are nearly about 212 or 424kbps.
It is very expensive for companies to accept NFC enabled devices and the consumption of power is also high.
Mobile hackers have developed innovative methods of attaining unauthorized access to personal financial data that are stored in our devices. Therefore it is not completely risk-free.
Conclusion
These examples show how important and valuable implementing NFC in each and every retail store will be.
The most popular application of NFC is that it simplifies the process of conducting payments or transactions.
With the help of NFC contactless payment systems, customers at retail store are allowed to keep their card information secured on their phones and pay with a few clicks on their phones or close to the NFC reader.
In spite of such broad applications of NFC, the real world is adopting it at a moderate rate, however.
However, it is certainly going to achieve user acceptance at a more general level and a lot of big players in the retail sector are going to adopt this technology on a big scale.