IT businesses across the globe operate in fierce competition. The worldwide IT market was worth $9,358.51 billion in 2022, up from $8,384.32 billion in 2021, a CAGR of 11.6%. The high-stakes nature of the IT industry compels SMEs and enterprises to respond quickly to new issues, necessitating a novel team management method.
Businesses are creating digital offerings, such as new websites, apps, and other software. This requires keeping up with the rapid pace of digital change and increasing demand for hiring a dedicated development team.
These companies often focus on one sector and need more resources for projects. And this is where they can think of either managed IT staff augmentation or managed IT services.
You may ask — "Which model is superior when comparing IT staff augmentation vs. managed IT services." In that case, choose offshore dedicated developers that meet your business needs. There is no one-size-fits-all approach to hiring a dedicated development team.
Each one has its characteristics, benefits, and drawbacks. Given the importance of getting the right business model at the outset, it is best to follow this article thoroughly before making any financial commitments.
Staff augmentation vs. Managed services
When looking to hire dedicated developers, you can think of staff augmentation and managed services — both being different. Each involves outsourcing a dedicated developers team and serves different purposes.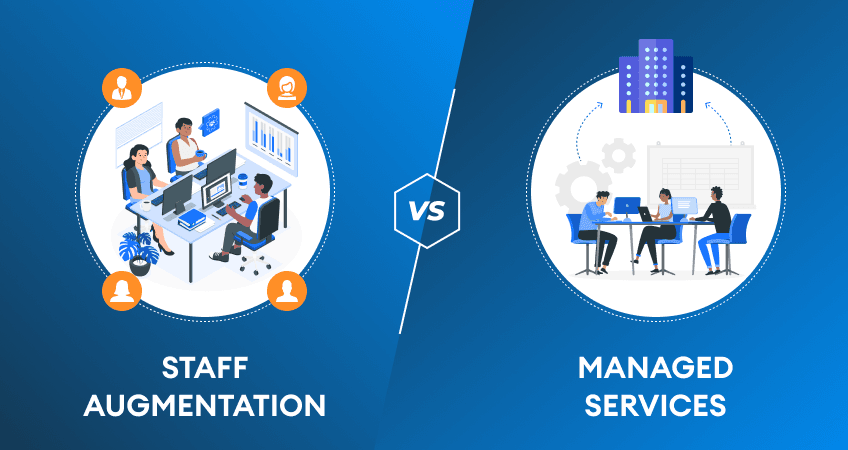 Here are some key differences between them —
The IT staff augmentation model will have documents handled by paperwork for staff augmentation. The hiring company can choose the candidates and take care of them. In managed services, the company hiring the service can not choose resources or train them.

Staff augmentation involves outsources hiring specialists who lack the necessary expertise but may operate in-house with the rest of the employees. On the other hand, different types of managed services will have the project's responsibility falling on an external team tasked with accomplishing a set of goals.

When you use staff augmentation services, you hire people and are the only one in charge of managing them. Managed services do not require using your resources to manage the team you're outsourcing. They work on their own and make all of their own decisions.
Here is a quick image showing the key differences between staff augmentation and managed IT services.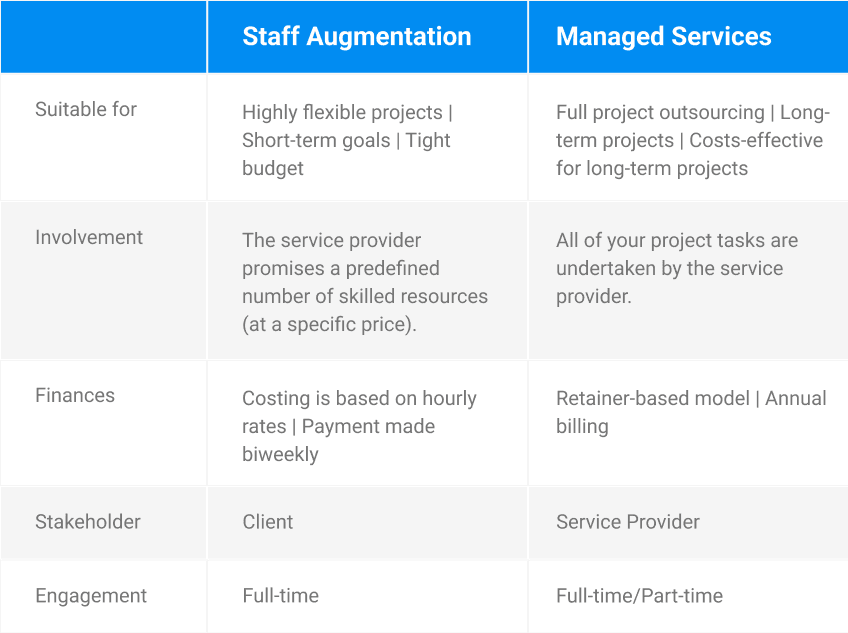 Overview of staff augmentation
Staff augmentation is an IT outsourcing model where a business can add members to a current team or organization to work on a specific task or project. This is a short-term position that will close once the project is completed. Companies often opt for staff augmentation when there is no pressing need to fill a full-time position.
IT staff augmentation has many business benefits, including increasing IT resources without longer commitments, hiring for the short term, extending a dedicated software development team, etc. Staff augmentation is a cost-effective substitute for hiring full-time employees that requires time and effort.
Types of staff augmentation
When you adopt an IT staff augmentation hiring model for hiring experienced dedicated developers, here are a few types you should be aware of.
Short-term
This is geared towards situations where you need to add strength to your current crop of staff for a shorter period. This works if you want to temporarily expand your capacity between a few weeks and a few months.
Long-term
Staff augmentation is designed for projects that need extra workers for an extended period—typically six months or more.
Skill-based
When you need particular expertise for a project, skill-based staff augmentation is the best bet. Here, you hire personnel based on the required competence and help the current (in-house) function smoothly. For instance, skill-based staff augmentation can benefit small yet skill-specific tasks like typing or data entry.
Highly experienced
You'll need experienced staff when the stakes are high. A project that requires greater expertise would need experienced hiring. Outsourcing partners with a high level of expertise often operate in fields like information technology or software development.
Pros of IT staff augmentation
Access to a larger talent pool
Another advantage of IT staff augmentation is it helps you access a wide range of talent pools where you can hire resources from across the world. Plus, staff augmentation fills the skill gaps that your internal team lacks.
Hiring across nations boosts the chances of finding qualified candidates. Advanced tactics enable these specialists to complete complex jobs. Experience and extensive market exposure provide them with extensive expertise. Thus, they enhance initiatives and boost profits.
Choose the skills you need most
Targeting talents helps you get competent professionals in place quickly and inexpensively, whether you need support with a specific project or your whole firm.
Instead of hiring an individual and expecting them to gain the required knowledge, you'll be able to cherry-pick the best candidate based on their specific set of skills.
Better control
Having greater control over one's employees might benefit businesses as it is one of the pros of staff augmentation. They are responsible for the larger staff's day-to-day operations and ensuring everyone fits in. From start to finish, the firm is in charge of everything.
Operational efficiency
Only the most enjoyable and productive initiatives are allowed your time and attention. As a result, everyone involved will come out and deliver. This effectively bridges the gap between the demand for and supply of professionals with the necessary abilities.
The benefits of staff augmentation, such as the ability to hire on the fly, help balance the needs of both workers and businesses in novel ways.

Increased adaptability & flexibility
Hiring an offshore development team helps you overcome the downside of permanent hiring that limits your company's capacity to take advantage of the emerging potential. Instead, choose staff augmentation and pick top talent based on hiring needs. These professionals are highly adaptable and seldom require training (since they are experts in their field).
With its inherent adaptability, staff augmentation is a great option for businesses that often face fluctuations in demand. When a project team encounters problems that are too difficult to handle, they may need to recruit additional help to keep up appearances.
Employing people full-time allows businesses to grow more quickly. The ability to handle projects of varying sizes is made possible by using temporary workers. In addition, this allows you to expand your operations without lowering standards.
Cost-effectiveness
When weighing the pros and cons of IT staff augmentation, consider how your business can avoid long-term costs by hiring expertise for a single assignment. Project-definite recruiting helps you pay for personnel only when needed instead of hiring personnel.
Such skill-specific ability offers an operational framework that enables a domain-centric advantage over competitors while saving the cost of hiring, training, and retaining employees.
Hire an offshore development team with employee augmentation for temporary staff that is ideal for short-term project initiatives. The staff augmentation strategy helps identify the skills and competence your team needs and acquire the right temporary workers for your project at a low cost.
Read More: Hire dedicated offshore developers and reduce your costs
IT staff augmentation services give you access to global talent. Hiring across nations boosts your chances of finding qualified candidates and, thereby, a better-talented pool of experts.
Cons of IT staff augmentation
Training needs
You may still need to instruct your supplementary workforce in the ways of your organization's internal procedures and ethos. Staff augmentation enables businesses to access IT staff with relevant experience per-project, but these new "components" are not acquainted with the new company's procedures. Therefore training is necessary for proper integration.
This process of communicating business rules, explaining the company's internal procedure, and introducing team members to the current method of working may waste your HR staff's time. Guides and short explanatory films can assist smooth the process.
Read more: When you should hire the offshore developers
Onboarding
Staff augmentation's shortened onboarding time is a benefit. But it still takes time to orient them to the firm, just like any new hire, whether they're permanent in-house employees or remote contractors. This requires arranging training sessions for newcomers and uniting your core personnel with part-time experts.
Lack of internal knowledge
When working on a project, often only current staff have the breadth and depth of historical knowledge needed. Training and familiarizing a new hire with the project may be necessary. Those new to the project need time to learn the ropes.
However, working with a reputable staff augmentation company helps overcome such cons of IT staff augmentation. They put in the time and effort to ensure that any gaps in your expertise are minimized before hiring anybody.
Project management
More people means managing more staff, and the gap would take more time for a project to complete. The employees who aren't getting enough work should be much easier to manage, but you still need to be able to handle the extra people when hiring a dedicated development team. This will increase work for the project manager and may reduce productivity.
Quality risks
There is always the risk of getting subpar quality when hiring through this model. But, you can counter this drawback by keeping compliance in place.
You may reduce the likelihood of receiving subpar service by signing a long-term agreement with your chosen provider. If you want to make sure you're completely protected, participate in the recruiting process so you may choose the greatest possible match with the company's representatives.
Higher long-term cost
Since you're paying highly skilled employees to join your team, expanding capacity may result in higher labor expenses if the project takes longer than projected. However, this is negotiable based on how your contract with the staff augmentation agency.
When should you look for IT staff augmentation service?
It is ideal for weighing the pros and cons of staff augmentation when comparing it against other staffing models like nearshoring, onshoring, offshoring, etc. Ultimately, it helps grow your existing full-time workforce but has its boons and banes.
Start by considering your business's current and future state. This will help you take the necessary steps to get there. If you are confident of your current employee size and expertise. Additionally, you may gauge the budget amount to make the best possible business choice regarding the talent you get and the cost it incurs.
However, communication is of utmost importance while undertaking staff augmentation. Be truthful about the company's culture before choosing this option. If your business lacks internal communication, hiring managed IT services is best.
Read more: How to choose the best outsourcing model for your project?
But staff augmentation is better if you want to refrain from investing time and effort into training and communicating with your new employees. You'll discover that staff augmentation is the key to your company's next level of development and efficiency.
Overview of managed services
From immediate, ad hoc requests to round-the-clock monitoring and maintenance, managed IT services encompass every conceivable aspect of your IT infrastructure. Managed IT services model is useful for organizations who want to lighten their IT loads or address skill shortages in their current IT departments.
Depending on your preference, these services may be used with either public or private cloud infrastructures.
Most managed service providers in the IT industry charge monthly retainers or flat rates. Here, you agree to pay the MSP a monthly fee for constant assistance. The stipulations of this arrangement are often laid out in a managed services agreement and service-level agreement (SLA).
Read more: A complete guide to hire offshore developers, rates, and place
The offshore software development company would sign an agreement with a detailed scope of work, price, and metrics for the success of the provided services.
Types of managed IT services
Many managed service companies take a proactive approach to maintenance and administration, including patch management and proactive maintenance. Different managed IT services help you fulfill growing demand without incurring data center and IT facility expenditures. Moreover, cloud-based services may improve data, analytics, and storage.
Other firms provide managed security for bare metal and cloud infrastructure. Hybrid cloud organizations need competent security specialists. Below are some key managed IT services you can choose from.
Network and infrastructure services
Managed infrastructure services require you to examine many managed service providers' options carefully. As major businesses move their day-to-day operations and mission-critical services online, the IT infrastructure supporting them should be in good condition to keep the business running smoothly.
Common network and infrastructure services include network management, security, print management, and more. Firewall software, data backup services, report generation, data analytics, and other services may fall under these umbrella terms.
Security
When evaluating managed services concentrate on managed infrastructure that specializes in security. IT infrastructure has various components, hence managed service offers cover many categories.
Managed networks, network security, managed print services, etc., are common types of managed security services. It also includes Firewall solutions, data backups, reporting, and data analytics, amongst others.
Managed software as a service (SaaS)
Build your offshore software development team as a part of IT managed services. Here, service providers offer a subscription-based software platform to enterprises. Office 365, unified communication software, and anti-virus programs are examples of such managed SaaS services.
Technology support
Managed services might also include help with your computer or other electronic devices. Managed support services providers can offer project-based assistance in the case of large Microsoft Teams or SharePoint rollouts. You can also choose support on an ongoing basis in the form of technical support for enterprise systems.
An experienced IT service provider will take a conventional approach and provide a project timetable and budget outline. Also, they ensure that the project is finished on time and under budget.
Data analytics services
Businesses in need of data management and use monitoring services will find data analytics to be a useful tool. This service includes business intelligence aimed at pinpointing certain patterns to chart courses for better operational efficiency.
Pros of managed services
24/7 Availability
Working with a managed service provider offers you consistent support — 24/7, 365 days. Most round-the-clock offers on-call and weekend assistance. Such features often involve an additional fee. Finding the ideal MSP is easier if you opt for one that operates worldwide, across several time zones, and assists at all hours of the day and night.
Read more: Manage time gap with offshore developers using best practices
Cost-effective
The major advantage of managed IT services is that it costs far less than doing everything in-house. By relieving in-house staff of so much work, firms that use managed service providers may save costs in various ways.
Lesser staff problems
Free your on-site staff from running regular computer checks and leverage the benefits of managed IT services. With managed services providers, they can get more done during the workday since they keep systems up-to-date with Windows patches, performing routine maintenance like disc defrags and virus scans.
Proactive management
Managed IT service providers avoid and eliminate connection breaks. MSPs offer 24/7 network monitoring to ensure resolution and repairs if anything does occur. Managed IT services employ the most powerful remote monitoring and management technologies to discover and fix system faults.
This lowers downtime and prevents issues from growing. Your firm will suffer the longer it takes to address a system fault or cyber threat. Even at enterprise-level firms, IT staff monitor their network using managed IT services.
Regular monitoring
Managed services providers offer everything from technology monitoring to administration and even data storage coupled with security. There is no shifting of responsibility in the event of a malfunction. It will be resolved by your managed IT services and support staff.
Cons of managed services
Physical presence
Managed service offerings are usually remote. You can hire third-party contractors for managed IT services, but they execute business operations remotely. This process of remote team management snatches away the project monitoring power and may prove an obstacle for more agile companies.
Loss of a dedicated IT team
Every business has its specific IT requirements. The managed service providers might not be familiar with one particular business's peculiarities as they offer generalized services catering to the entire industry. The lack of a dedicated IT team can limit the service provider's efficiency in satisfying an organization's IT requirements.
Lack of flexibility
A seasoned service provider may also mandate the usage of proprietary software. You may feel trapped if they fail to record their work on your network. Here, think of choosing a well-managed IT service provider who avoids such perils of managed IT services by asking appropriate questions before signing them up.
Security and control
When outsourcing managed IT services, trust them to keep your company secure. But you should learn their security protocols. You risk using inferior protocols, especially with an offshore MSP that might not be well-versed in your country's regulations.

When should you consider managed IT services?
Because of their ability to protect your digital assets from danger, managed service providers (MSPs) are becoming popular. MSPs enable your network to be continuously monitored, updated, and maintained by specialists who understand why particular methods and approaches should be employed rather than waiting for the bottlenecks to surface.
When you hire a managed service provider, they will assess your company's existing and future. IT needs and provide recommendations on what products and services would be most beneficial.
When comparing staff augmentation vs managed IT services, the latter offers higher and more consistent support with much-needed expertise. For this reason, even if it means spending a little extra money, it's usually best to have a third-party managed IT services provider handle your organization's IT needs.
Managed services and staff augmentation process
Define your problem
The first step involves identifying talent shortfalls. You could also establish employment contracts and run interviews with candidates to find individual talent that meets your skill demands.
Begin with a clear knowledge of how and where your business flourishes and needs to identify bottlenecks, thereby defining a problem that staff augmentation can resolve.
Specify requirements
It is best to know exactly what you need before searching for team members as part of IT managed services. Define what skills, experiences, and qualities you'll need from the applicants. Find out how many qualified people you wish to hire.
Search for the right candidate
Make an ideal perception about your staff augmentation service — the quality of the workforce they provide, the skills they offer, and the industry they work in. Scout from reputable international sources, such as Clutch and Upwork.
Also, check out their reviews and ratings to gauge professional experience. Create a shortlist of contractors with questions to ask during an interview.
Interview and evaluate the employee
Once you scout and filter CVs, arrange interviews with the selected specialists. Try conducting interviews with CTОs and CEO or a product owner. You will only pay for the professionals you hire, so go ahead and interview as many relevant candidates as possible.
Adaptation and support
Once you integrate new team members, continuous support is necessary to drive collaboration which translates into efficiency. Make room for feedback that helps build a strong and ever-improving relationship with your augmented staff.
Conclusion
Every business is different; therefore, each will have a different strategy when finding the right IT outsourcing partner. When confused between staff augmentation and managed services, consider the benefits above and the drawbacks of making an informed decision.
Both sorts of IT outsourcing will help you increase efficiency and reduce the burden on your full-time staff. Also, they save you from incurring additional expenses of hiring and training the staff while staying afloat with your business objectives.

FAQs
Staff augmentation brings in expert IT specialists to work on a company's specific project. You will get the much-needed expertise required by contracting with a reputable company that offers on-demand access to IT specialists.
Here, a third-party company undertakes the entire project operations under its control. Most SMEs would exploit these subscription-based services to optimize their deliverables to the same level as industry leaders.
Often, businesses will have limited resource availability that lengthens the turnaround time. While employing permanent staff may get the job done, it increases expenses (hiring and training) even when they are not working on any project.
Managed Service Providers (MSPs) are outside companies that help businesses with their IT needs by handling support and upkeep. For this reason, modern businesses often see managed IT services as a quick fix to changing demands.
Staff augmentation services cost in India varies depending on your business requirements. Staff augmentation prices can be set based on the hourly rates of developers. Usually, this ranges from $25-$50 an hour. On the other hand, the cost of managed IT services will depend on the skills and expertise of developers. This can be paid hourly or assigned a project cost on a turnkey basis.