When it's about enterprise-grade software, .Net is the first technology that pops up in the minds of tech experts and businesses. But building world-class software in .Net with the in-house team is 10X more expensive than having it built by an India-based dot net development team.
India is considered one of the reliable countries for outsourcing software projects, especially .Net projects, as India possesses a good ratio of world-class dot net developers.
The process of hiring an offshore .Net development team in India begins by defining a detailed job description, timelines, goals, the scope of the project, and all other necessary requirements for your project completion.
Along with these steps, there are several other key factors that you should look into when you have decided to hire offshore .Net developers.
As per the survey conducted by statista, Microsoft's .NET is a highly used framework for developing enterprise-grade softwares. Businesses use it along with xamarin to create softwares and apps for numerous platforms, including mobile, web and Windows, often by hiring an offshore .NET development team in India.
One of the reasons developers use it is that other high-quality technologies, including C #, VB.NET, C ++, and F #, are compatible with.NET and can be used to create different applications.
As we gradually move toward a digital-first approach, the ability to hire top offshore .NET developers has become critical to business success. The sort of talent you recruit overseas has a significant impact on how they use the framework to create compelling applications.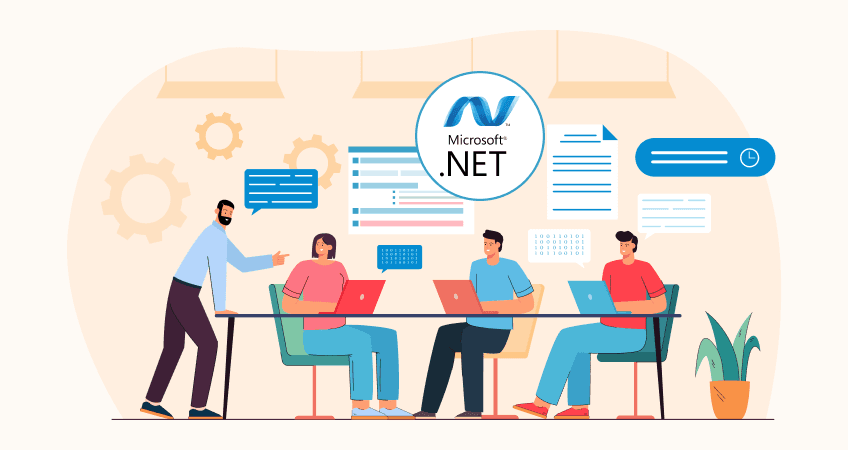 In terms of cost, this is a versatile solution that many industries can use — IoT, Gaming, mobile, Artificial Intelligence (AI), etc. With the right team and skilled developers managing the project, you can improve project efficiency and deliver solutions that can create a difference.
If you are considering completing the .NET development project, read along! You will discover important things about hiring an India-based offshore .NET development team.
Let us get started with quick advantages.
Key Benefits of Hiring Offshore .NET Programmers
Here are some reasons you may consider hiring offshore dedicated .NET developers in India for app, software, and web application needs.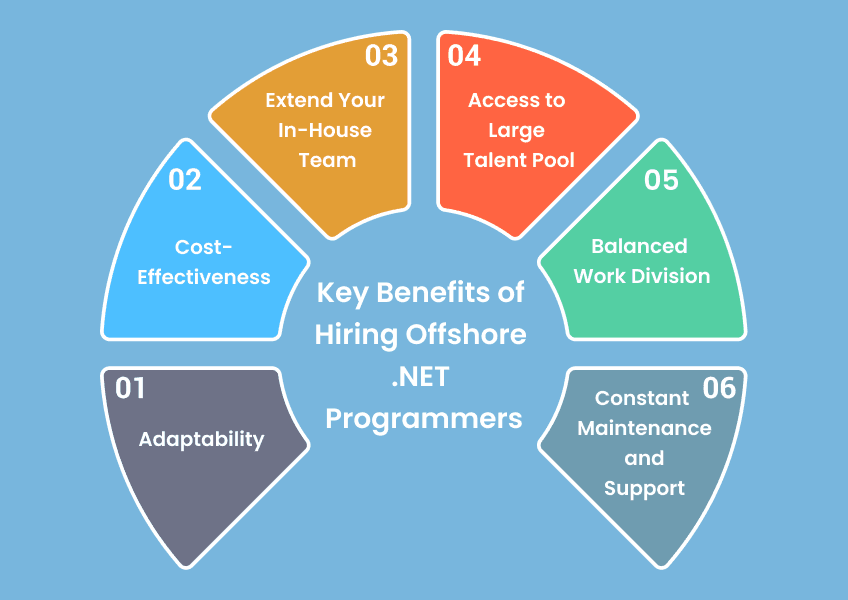 Adaptability
Businesses looking to hire offshore .NET development teams in India can leverage flexible schedules while working from different countries.
Adding or removing .NET programmers from an outsourced team is a hassle-free process. For instance, working on a project, you may not even need the participation of the complete team. Instead, you may hire the IT specialists you need along the way.
Cost-Effectiveness
Hire a .NET development company that can help you with quality developers who ensure cost-efficiency in running day-to-day tasks. They don't need any of the usual overhead costs, such as payroll, office rent, employee vacations and sick days, insurance benefits, recruiting fees, etc.
When you hire offshore .NET programmers, product development expenses will decrease as they charge less in India than in the USA. You need not hire new employees and commit to long-term employment in your home country.
Read More: Hiring offshore dedicated developers to reduce development cost
Extend Your In-House Team
Many businesses worldwide are leveraging outsourcing teams to fill in the gaps in their IT or software development teams.
It's possible to hire an offshore.NET developer in India to complete a mobile version of a web app for your organisation if you run short of developers or need a faster turnaround.
Once you hire an offshore .NET developers team, they can start working immediately without any training dependencies.
Access to Large Talent Pool
Offshoring allows you to access a broader pool of expert talent that is not limited to your country. Often, your home country will have top talent recruited by existing IT business giants. Hiring .NET developers in India enables recruiting talented IT specialists from a nation with a cheaper cost of living.
Balanced Work Division
If you have an in-house IT team, let them concentrate on their key duties, like monitoring network faults, data security, and more. Hire an offshore .NET development team from India who helps balance your team's workload, allowing them more time to focus on key roles. Such shared responsibility improves ordinary operations and software development.
Constant Maintenance and Support
Hiring competent and experienced .NET developers to work on your project ensures that all your queries are resolved. This is not only limited to project duration as .NET experts provide constant maintenance and support even after finishing the project.
Essential factors you should consider to hire a .NET development team
Hiring an offshore development team is difficult as many factors influence your approach. The current remote work arrangement will have your business managing dedicated developers remotely, making it impossible to apply a traditional sniff test to identify a good company.
Therefore, if you are looking to hire a dedicated .NET development team, then consider the following:
Identify your needs
Think of what role a hired .NET development team in India will play in your project. For this, you can start with the basic question — Does your company have an in-house project that might need the assistance of an external development team? Also, are you creating the project from scratch with a new project or extending an existing one?
An offshore software development company helps you hire top offshore .NET developers to create enterprise-grade software and web apps.
A lot would depend on your objectives and priorities before starting. Passing this work to a development team will cost you money and effort and lead to shifting goals and dissatisfaction. Therefore, defining your needs helps create appropriate project expectations, including a timeline and budget.
Knowing multiple languages
Remember, knowing a single programming language is not enough when hiring .NET developers from India. This means you should consider their knowledge of frameworks and libraries such as ASP.NET, MVC, and Entity Framework since most commercial.NET applications are based on these.

Ability to adapt to different frameworks
Candidates who don't know any of the needed .NET frameworks shouldn't be ruled out; if a candidate has a good grasp of one, they can quickly transition to the required one. No matter what library or framework they do not know, when you hire an offshore .NET development team in India, they will be able to grasp the basic concepts and ideas.
Commercial experience
Often, a company would exclude applicants based on unfamiliarity with a single framework on the requirements list. Remember, .NET frameworks are often comparable, and if a candidate has a solid understanding of this one, they can quickly shift to the necessary framework.
Even if they are unfamiliar with the library or framework in issue, they would understand its underlying concepts and principles.
Project quality and reviews
While your hired staff is based on several projects they work on, consider the kind of project. This means its size, quality, requirements, etc. Before you hire top offshore .NET developers, check for reviews from other businesses; get hold of their testimonials, ask for case studies, and know the scope of projects they previously covered.
Choose reliable partner
As mentioned earlier, remote teams cannot perform in-country sniff testing, so face-to-face interviews offer a great way to build confidence. The key to hiring a reliable partner involves thorough research, long interviews, and an understanding of their working methods.
For instance, a reputable offshore software outsourcing business would have a strong internet presence and accessible work samples. A company's website may reveal much about its culture and how they approach its .NET projects.
Technical expertise
There is no alternative to technical expertise when hiring .NET developers in India. A basic requirement is to consider hiring a proficient technical expert in .NET having a thorough understanding of the many technological fields.
It is also necessary to identify your project needs and consider the expertise you need to take it forward. For starters, you can look out for the following
Go through a company's website and blogs to learn about their team's credentials.
Check team members' LinkedIn profiles and know what they've done in the past, what projects they've worked on, and how they overcame project challenges.
Speak to their previous clients and know their experiences of working with them.
Methodologies used
With many frameworks, apps, and approaches available for.Net, you need to hire offshore .NET developers who are well-versed in using their skills correctly. Get experienced programmers who can adopt different methodologies depending on project requirements.
Effective project management for a .NET development project requires the manager and development team to employ a highly tailored approach in defining the methodology.
Here are some key methodologies you can think of when hiring .NET developers.
Agile
Agile follows the development in iterations — meaning a gradual increment of new functionality over time.
Some key methodologies include scrum, feature-driven development (FDD), crystal, extreme programming (XP), etc.
DevOps
Implementing DevOps requires businesses to undergo an organization that improves communication across various departments of the development life cycle, such as quality assurance and operations.
Waterfall method
The waterfall method involves requirements gathering, design, implementation, verification, and maintenance in successive stages.
Here, one phase cannot begin until the previous phase has been completed in full.

Necessary skills to consider when hiring an offshore .NET development team
Once you figure out the kind of technology, experience, and expertise a .NET developer has, think of skills. You may hire dedicated .NET developers who have Backend technical .NET developer skills. Also, it is recommended to follow these before considering the skills of .NET developers
Accessing recommendations from your business circles.
Reading reviews and feedback on social platforms like LinkedIn, Upwork, Clutch, etc.
Leveraging conferences, hackathons, seminars and other public gatherings.
Explore the tech marketplace for hiring talent.
.NET Web Applications
The know-how of .NET web applications is a must when hiring top .NET developers in India. They should understand the Software Development Life Cycle (SDLC) that focuses on creating safe, robust, and future-proof web applications. A .NET web application developer may provide a wide range of useful products, including logistics online apps, order management systems, and social media platforms.
.NET Customization Services
Hire dedicated .NET developers who have a knack for providing greater customization, enabling you to change everything about your experience to make it your own. You can opt for .NET-based web solutions that fit your business needs.
.NET eCommerce Applications
If you want to develop eCommerce solutions, hiring a .NET developer who is well-equipped with the basics of ecommerce technology is a good idea. It enables developers to build dynamic, real-time, and interactive online applications, allowing you to set up online storefronts and marketplaces.
Migration Services to .NET
.NET Developers can easily move systems built on older technology to more advanced .NET applications to build systems ready for the future. It lets your applications handle more information simultaneously as moving to.NET helps make better use of resources and boosts performance.
Robust .NET Integration
Effortlessly connect your apps with the Microsoft.NET framework as programs with greater.NET integration demand skills for .NET integration. Hiring .NET developers with such integration skills makes it easier for different teams to share data that offer a seamless flow of information across multiple teams for efficiency.
Client-side web development technologies (HTML/ CSS)
.Net developers should be able to create attractive and engaging online apps. Therefore, hiring one having experience with client-side technologies such as HTML, CSS, JavaScript, jQuery, and Bootstrap is desired.
Programming languages
Hire expert .NET developers who know how to write code in languages like C#, F#, and VB.NET to do their jobs.
They also need to know how to use database programs, such as:
ASP.NET MVC
ASP.NET MVC allows .NET developers to control an application's functionality fully. The ASP.NET MVC framework has gained popularity and is now widely used instead of other frameworks. With the help of open-source tools like this, hire .NET developers who can create applications more rapidly and effectively.
Client-side technology
One of the highly required .NET developers' skills includes client-side web development knowledge. It allows them to broaden their skills and boost their employability. Client-side technology enables .NET developers to create interfaces with visual appeal and intuitive navigation using HTML, CSS, JavaScript, and Bootstrap.
Budget design
Hire a top offshore development team with a proven ability to drive cost-efficiency in new software development projects with their budgeting and financial management skills. It's common for.NET developers to generate budgets before starting a new project to assess what resources they will need, thereby gauging the project's scope.
When interviewing developers, ask how they will cut the overspending throughout the construction phase by forecasting project costs when in the development phase.
Problem-solving
While this is not a core skill to consider when hiring a dedicated .NET developer in India, you still need someone who detects and resolves problems in their prototypes. Your .NET developers must possess problem-solving abilities and ensure evaluation of the outcomes of their tests as they create interfaces.
Data Security
Data security is integral to any .NET development team to ensure data integrity, confidentiality, and availability. For the same, your .NET developer would require the below-mentioned skills
Ability to design a clean, secure codebase to avoid data breaches. This includes. NET's authentication, authorization, and access control mechanisms are difficult to implement.
Access the candidate based on their knowledge of .NET data security right from the basics of configuring HTTPS.
When hiring a.NET developer, make sure they can implement security controls.
Communication skills
Communicating with clients would need .NET developers to be a master of communication to avoid any misunderstandings. When hiring one, ensure they have strong communication skills ability to interpret technical input and share ideas contextually.
This means a .NET developer should have both hard and soft skills, making it easier for clients and developers to comprehend each other's vision.
Customer service
You can check for .NET developers' ability to provide top-notch customer service as one of their key skills. Here are some examples of when.NET developers apply their customer service skills
Before starting a project, developers meet with their customers to identify their needs, outline how long the development process will take, and what features are feasible.
During the project, .NET, developers have an open contact channel with their customers as the development process moves further. They communicate what they've done, share future tasks, and plan for the next milestones while discussing existing bottlenecks.
After the project, .NET, developers and customers reconvene to assess the project's success. At all levels, the developers are courteous and professional.
How Peerbits enable you to hire top .NET developers in India
Hire dedicated .NET developers in India with Peerbits, offering quality Project Managers & Experienced .Net Developers.
At Peerbits, our .NET developers are highly trusted talents who have worked on projects across multiple industries worldwide. Our dedicated .NET developers have catered to a wide variety of customers from numerous industries who trusted us as their project partners.
This is a testament to the company's extensive expertise in the.NET development, which offers a greater advantage in a highly competitive world. As a leading.NET software development company, we offer you developers who possess the following—
Over a decade of expertise in .NET development for software, web, and mobile applications.
A full-service range from demand analysis through software implementation, deployment, QA, and maintenance.
A proven track record of delivering efficient.NET software solutions for different industries.
Our .NET developers possess the below-mentioned core skills
ASP.NET, MVC, .Net Core, C#, Xamarin, Web API
MS SQL Server, PostgreSQL, MySQL, SQLite, MS Access
Silverlight, WPF, WinForms
LINQ, Entity Framework
Kentico, Umbraco, Sitefinity, nopCommerce, DotNetNuke, SharePoint
Microsoft Azure, AWS
Bottomline
In a nutshell, considering the above factors is crucial when hiring an offshore .NET development team in India. Also, it is important to consider the key skills of .NET developers that can add value to your project. Therefore, try knowing their skills in advance to get the best results by harnessing their knowledge and expertise.
One must not overlook the theoretical knowledge and technical skills before hiring an offshore .NET development team from India. Like other object-oriented programming languages, the .NET framework has diversified features that help skilled .NET developers easily develop innovative and secure web applications.
A little communication gap with business users might result in significant variations in your job. Thus, it is better to consider the soft skills of .NET developers before hiring them.
As one of India's highly preferred .NET development companies, we have created a list of the most important factors to consider while offshoring the finest .NET developers.