Hiring offshore developers has emerged as a popular choice for many IT companies across the world. Companies are now looking to outsource their work for a variety of reasons like saving costs, getting access to top skillsets, enjoying flexibility, and many more.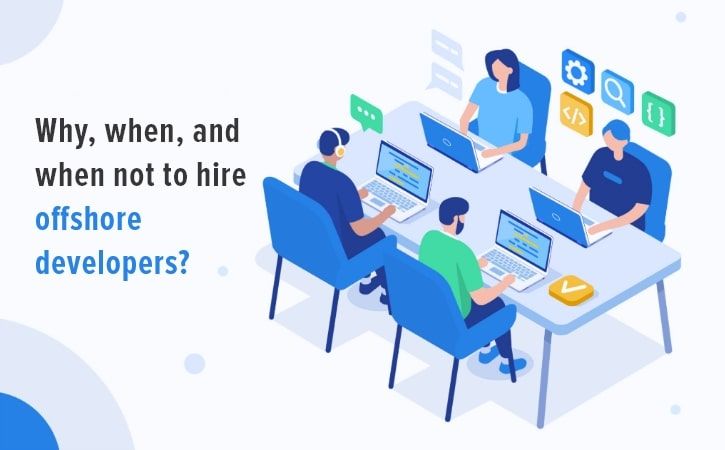 The COVID-19 pandemic has also played a major role in boosting this trend as companies are now slowly shifting from the in-house set up to the remote one.
But how one can know if they should or should not hire offshore developers? If you have the same question then don't worry as you're not alone. In this blog, we will try to answer this question in such a way that it provides you with crystal clear ideas as to when you should hire an offshore developer.
Why go for offshore remote developers?
Offshore development comes with a myriad of benefits and that's precisely the reason why companies across the world are adopting it. Below are a few of the many benefits that offshore development offers:
Low labour cost
One of the major reason why companies must go for outsourcing is low labour cost. Yes, it's no secret that developers in regions like Asia, Latin America, and Africa charge way less as compared to a developer in the US or Europe.
Read More: A guide to offshore developer rates.
Efficiency
The offshore developers that you hire possess top-notch expertise, skills, and experience. In simple words, they are a specialist of their own field. So, hiring them becomes a huge plus point as they can implement their skills and expertise and deliver better results.
Globalization
Hiring offshore remote developers across the world helps you to increase your business reach. Furthermore, with offshore developers in place, you can leverage the time zone difference advantage to work for 24 hours of the day.
Manage peak demands
To focus on work along with staying updated and competitive is a tough ask. To stay ahead of the competitors, businesses must embrace the latest market trends. However, with the in-house team, this becomes difficult.
This is where offshore development companies come to the rescue. These companies have a team of highly skilled offshore remote developers who are well experienced in working as per the latest market trends. Furthermore, these developers are certified and are reputed to deliver services of the highest quality.

When to hire remote developers
We just saw "why" one must hire offshore developers. And now we will see "when" you should hire them. Below are a few of the reasons why hiring offshore developers can be the best decision.
Looking to reduce liabilities
While choosing software outsourcing, you must ensure the team is capable enough to work on a project without requiring much supervision. Such a team can help you in driving positive results and ensure that your company maintains sustainable business growth.
Although, working and managing on too many tasks can build liabilities which needs a lot of money and time. However, with the help of an offshore development team, you can reduce these risks effectively.
Tight budget
Hiring in-house resources is a costly affair since you have to set up infrastructure, arrange systems, and provide benefits like sick leaves, etc. This can put a lot of financial burden on companies or start-ups that run on a tight budget.
In such scenarios, companies or start-ups can hire offshore remote teams and save almost 60% of the cost as compared to that of hiring an in-house team.
Business scaling
Business scaling is one of the most difficult yet necessary things to achieve if you want to survive and thrive in the market. For this, you must ensure that your business is able to follow various growth strategies such as cost reduction, implementation of cutting-edge technology, and many more.
Hiring an offshore remote team can help you in the pursuit of business scaling as it offers operational flexibility, streamlines business process, allows you to enter international markets, and helps you to scale up and down quite efficiently.
To achieve targeted time-to-market
In today's day and age, no business can afford to lose time. Especially, if you're an IT company then time is of utmost importance as you'll require to release new products and software to the market in a short time.
In such a scenario, hiring a team of offshore developers becomes crucial as they enable you to achieve your targeted time-to-market for your various products and software. With your offshore team in place, you can focus on more important things like getting more business for your company.
Dropping team productivity
Outsourcing is not just limited to handing over those tasks in which your in-house team is not that efficient. You can go one step ahead to outsource your core competencies as well.
Outsourcing core competencies can be helpful when you see that your in-house team's productivity has taken a hit. This drop in productivity can also cause a drop in profits. Managing profit margins in the times of the COVID-19 crisis is quite difficult.
This is where offshore developers come to the rescue. Also, outsourcing core tasks can also give your in-house team a much-needed breather and boost their productivity muscles.
When you require a core skillset
Many a time, you fail to find an in-house resource who possess the required core skillset to complete the project. In such a scenario, you hire a team of offshore developers who has the required core skillset.
This option is also cost-efficient because if you a local developer for the required skill set then it would cost you a lot.

When you need resources for short-term projects
When you have short term projects of a particular niche at your hand, then hiring a full-time employee doesn't make sense. It's because once that project is completed, then you won't have any other projects for them.
Read More: Chosse right team with right structure for your project
In such a situation, the smart choice is to hire offshore remote developers as per the project's requirement. Offshore developers offer you with utmost flexibility. It's also a cost-efficient option as you're obliged to give them remuneration only for that particular project.
When you need to provide 24×7 support
Offering 24×7 customer support is important in creating your brand's identity. However, it's difficult for start-ups and small companies to offer these services as they don't have the luxury of having too many resources.
In such case, start-ups and small companies can hire remote developers who can provide 24×7 support to their customers. Furthermore, you can also hire remote developers to develop Chatbots, voice recognition software, and other customer support tools and apps.
Struggling against increased salaries
Many countries are facing a massive shortage of quality software engineers. Many a time, this shortage forces companies to compromise and hire candidates who don't possess the required skillset. Secondly, this shortage also increases the salary demand as the demand is high and there's a limited supply.
But now companies don't need to compromise and pay higher salaries as they have a better and cost-efficient option in the form of offshore remote developers. This is because they can hire software developers of top-notch quality across the globe and too at to reasonable rate.
Read More: Hiring dedicated developers reduce development cost
When you're looking to mitigate risk
Outsourcing is an excellent option when it comes to mitigating risks. It gives you an opportunity to diversify your business risks by dividing key operations and various components between the company offering and software outsourcing services.
Looking to use cutting-edge technology effectively
The realm of the IT industry is filled with several tools, tech platforms, and methodologies that transform quite rapidly. If your in-house team cannot utilize these tools and technologies then you might find yourself behind everybody else.
To fix this, you can hire an offshore development team that constituents of professionals who are well-versed with the effective utilization of trending technologies and tools.
When not to hire offshore developers?
There's no doubt that outsourcing is beneficial. However, you must not outsource all your task. Below are some of the points which shows when you shouldn't hire offshore developers.
If you're an expert in your competencies
Usually, companies outsource those stuff in which they lack expertise and experience. However, if you already have the expertise in it then you don't need to outsource it. If you're confident in the skills and experience that your in-house team possess then it's better to just stick to them.
If outsourcing is expensive
One of the major advantages of hiring offshore developers is cost-efficiency. But in case, some outsourcing companies quote you something way expensive then it defeats the purpose of offshoring. In such a case, you must find some other offshore development company that offers you budget-friendly services.
If there's a loss of control
No matter, if you're offshoring your tasks or working with in-house resources, you must always have control of the entire project. You must be able to track the progress of the task at regular intervals.
Outsourcing won't work well for you if the offshore development company is hesitant to give you access to all the files and documents related to the project.
To ensure that your offshore development journey goes smooth, you must have the access to all the information pertaining to the project. Because if you lose control, then the decision of choosing an offshore development company can go south pretty quickly.
Conclusion
Hiring offshore developers allows you to scale your business, access diverse talents, increase productivity, and most importantly save up costs. It also helps to get rid of challenges and hurdles that you face in managing an in-house team.
However, it's important to understand when to hire them. I hope this blog answered your question and cleared all your doubts on when to hire remote developers.
After reading this blog, if you think that your start-up or enterprise needs to hire offshore developers, then contact Peerbits. Peerbits is a leading offshore development company that has a proven record of providing highly talented and skilled remote developers to its clients across the globe. Peerbits can offer you remote developers as per your requirements no matter how complex they might be.