From 23rd March onwards, Peerbits' top management decided to declare work from home for all our employees thus abandoning all the routine activities at our company's premises. This step was taken in response to the threat posed by the COVID-19 coronavirus.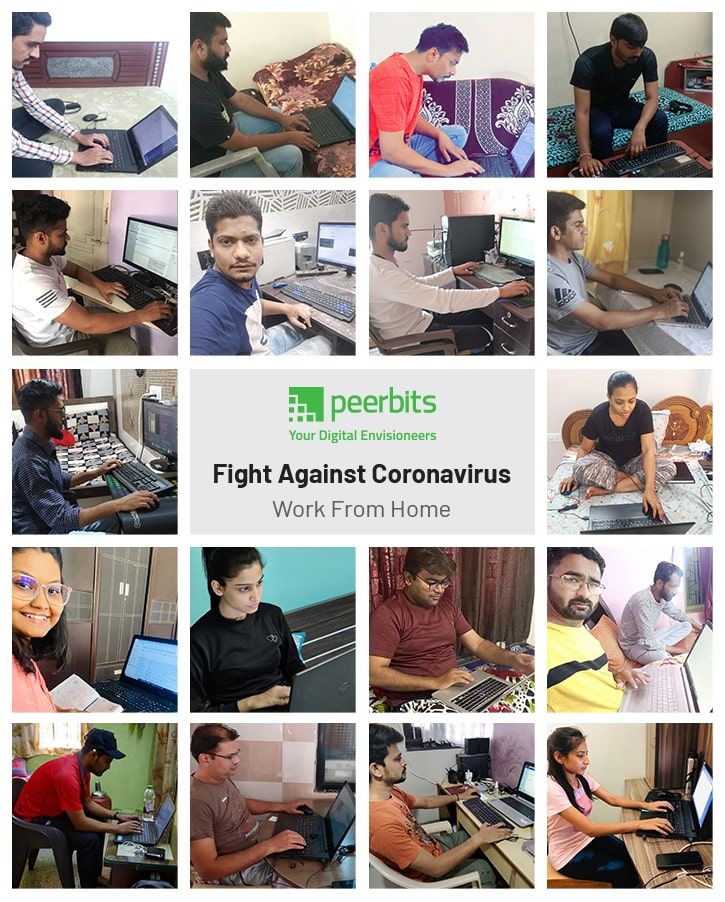 The whole world is on a break right now due to the Covid-19 Coronavirus Pandemic that broke out earlier in Wuhan, China. The roads and streets that used to be filled with swarms of humans are now suddenly empty.
There's a ghostly silence everywhere, even the most crowded places in the world like Times Square New York, Opera house Sydney, St. Peter's Square Vatican City, and many more are completely empty making it as an unprecedented event in modern history.
The thing that makes novel coronavirus scary is the fact that it's an airborne disease. According to WHO, The COVID-19 virus spreads primarily through droplets of saliva or discharge from the nose when an infected person coughs or sneezes, so it's important that you also practice respiratory etiquette (for example, by coughing into a flexed elbow).
The best possible way to combat coronavirus is by social distancing and self-isolation. And Peerbits' decision to work from home has been taken considering the exact same thing.
World under lockdown
Coronavirus has spread from China's Wuhan to 194 countries and territories around the world. The numbers of cases are increasing every hour across the globe. Many European countries like Italy, Spain, Germany, and many others are in critical conditions. Similarly, the US and UK are also witnessing a rapid surge in new cases and casualties.
To control this pandemic, many countries have resorted to total lockdowns. China tried this in Wuhan and saw positive results due to it. Following the footsteps of China, many countries like Italy, Spain, US, UK, and Iran are now under total lockdown.
They have banned all the international flights, sealed all the borders of the province to restrict the movement of people and have advised people to not come out of their home unless necessary.
India too announced a 21-day lockdown in the entire country after witnessing a spike in the overall coronavirus cases.
Peerbits working from home
Peerbits has always been a responsible company and ensuring the health and well-being of our employees is always our number one priority. "We understand the gravity of the current situation and that's why we have granted our employees to work from home with absolute flexibility, ensuring that they are able to safely quarantine themselves and remain healthy" said Shahid Mansuri, CEO, Peerbits.
Our team at Peerbits consists of mobile app developers, web developers, designers, business development team, digital marketing team, and human resource department. All the employees are communicating and coordinating via various communication tools like Skype, Zoom meeting, Slack, and Email.
We understand very well that these are tough times for everyone. With lockdown imposed everywhere and a constant threat of a Pandemic, it might not be possible for everyone to work normally as they used to do earlier in the office. That's why we have decided to put no pressure to meet the deadlines thus ensuring to establish a quality work-life balance.
Message from the management
"Stay safe and keep your family members safe by taking all the necessary precautionary steps. Don't go outside your homes until it's very necessary to do so" advised Shahid Mansuri.
"Don't do panic buying and don't fall for any fake news propagating via WhatsApp or any other social media. Follow all the precautions issued by the government and the WHO." said Mr Patel.
"Most of us have complaints that they are not able to spend quality time with their family and loved ones. Which is why I think it's the right time for all of us where we can complete your work while enjoying the time at home" Expressed Mr Pisuwala.
What are the effective WFH tips and strategies used by us?
WFH could become a difficult task for many. Our employees know this fact very well and follow the below tips and strategies to boost their productivity.
Build a permanent workplace
It's very important to designate an area of your home where you can work. This area could be an empty bedroom that can be converted into a home office. If you don't have that much space then you can set up a desk for your computer and office supplies. Regardless of the space, you must ensure that you commit to working from the same workplace every day.
Set real working hours
After setting up the place, the next important thing is to set up a specific business or working hours. WFH does provide absolute flexibility; however, you must identify your productive period of the day and set your working hours accordingly.
Take short breaks
Many people think that they will be able to do more in less time with fewer distractions at home. This often makes them over-committing to their work which can reduce creativity and productivity. Taking short breaks in an effective way to counter that scenario as it is known to boost creativity and productivity.
Use a planner
Apart from using a to-do-list, start using a planner where you can keep track of your appointments, meetings, and deadlines. There are many task management tools available that can help you to organize your tasks in an efficient way.
Commit to one project management app
If planner apps or "to-do-list" doesn't go well with you then don't worry as there are many advanced project management apps available. These apps are really useful if you are WFH.
Some of the top project management apps are:
These applications have both mobile versions a well as web-based versions. These can also be integrated with applications like Slack.
Let's fight this battle together
At this time of Pandemic, it's very important for all of us to understand our individual responsibilities. If we all take proper precautions then this Pandemic can be stopped.
Peerbits has already taken the first step by announcing WFH. The baton is now passed to all the individuals to follow all the rules imposed by the local authority and avoid all the factors that can lead to the spread of this disease.
We hope that with the continuous and rigorous implementation of precautionary measures we all will be soon back to our original workplace.