The digital world is empowering plenty of industrial sectors through with the advent mobile applications that have redefined customers' shopping experience.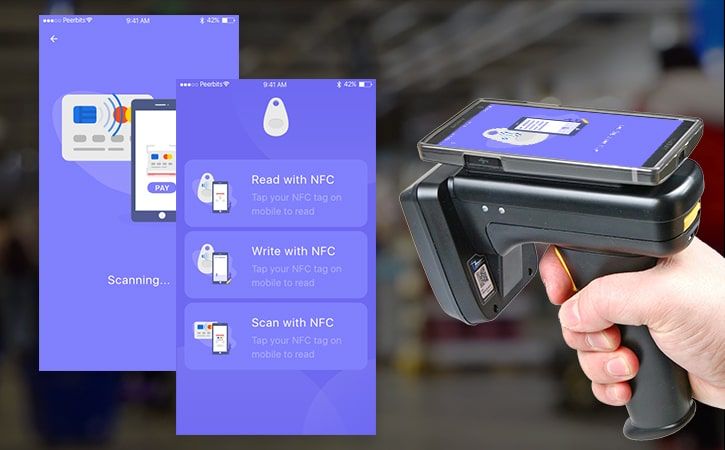 Mobile applications have made it easier for customers to book services or buy products as they offer two highly convenient options, i.e. online order, and online payment.
The Global market for RFID technology was estimated at US 33.3 billion in the year 2022 and now it is valued at around 57.2 USD billion by the year 2026 growing at a CAGR of 13.3 %. This rapid expansion is leading many companies to invest in exclusive RFID projects.
There are plenty of highly successful online retailing portals like Alibaba and Flipkart that have brought a major change in the way people shop these days.
Services offering mobile applications like Uber and AirBnB aids its users to carry out the entire purchasing process fast and easy.
While these portals use online payment, it involves the exchange of data in vast amounts, as a result, all the online stores have customers' credit card details and other relevant banking information.
Therefore, they hold the responsibility to ensure proper implementation of effective data security protocols that protect and secure data.
One of such technology that smoothens the process of online payment and integrating product and services over mobile applications.
Now, let's talk about scope of the RFID in mobile technology. Before we discuss that let's discuss what RFID is all about.
RFID which stands for Radio Frequency Identification is name of the technology which is used for reading electronic tags that contains data in it.
These tags are stuck on an object which undergoes the scrutiny. You can stick these tags on various garments or equipment which will broadcast the radio frequency signal.
RFID along with the mobile technology can create several applications for the process management improvement.
Usually, the RFID reader provides the information; however, when connected with a mobile device, the data can be managed via server by providing data history, data persistence, data management and also b easing the decision making.
RFID is leveraging on the mobile technology
Many of the mobile applications have managed to provide users with a convenient online experience due to plenty of technological advancements.
One of such technological advances is NFC technology, i.e. a type of HF RFID technology that enables online stores to give users a more convenient online payment option with added security layer.
Leveraging on the perks of using credit and debit cards with NFC chips, customers can pay online with a single tap against an NFC payment station.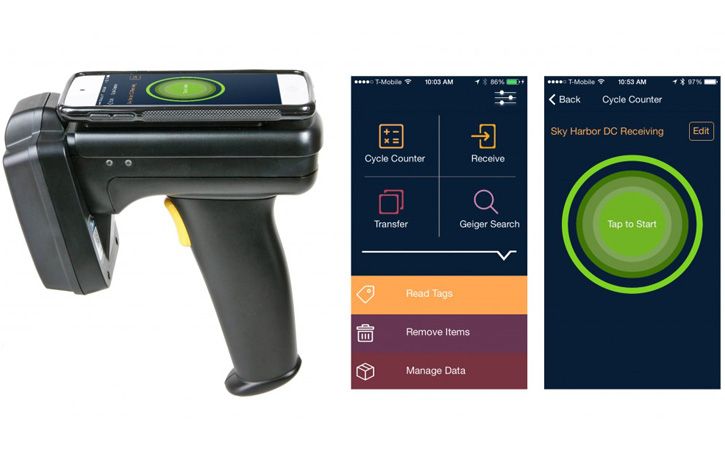 There is no chance someone can remove data through the help of magnetic strip since this NFC-driven payment system does not involve the card swiping process. This online payment system was also adopted by Google which led to the rise of Google Wallet.
It contains all the banking card details with plenty of security protocols and enables customers to pay at NFC systems.
However, one disadvantage of using it is that it is restricted by the number of retail stores that have NFC stations and phones that support it.
Recently, Peerbits developed an app called NFC Peerbits for payments. This app allows a user to read the data, modify the data written in it, and make payments with NFC tags.
Deploying RFID for businesses
Due to its wide applications, there are plenty of retail stores that strive to create an NFC station at almost every retail store.
Not only that, even many mobile manufacturing companies have started adding NFC technology into their mobile phones to match the growing demand.
The role of RFID tags lies in its proper implementation as NFC chips are able to examine passive RFID devices and get relevant information from them.
A lot of advertising agencies use it to enhance the net effect of their innovative marketing techniques. Through the help of RFID tags, advertisers and marketers can make plenty of 'smart' posters that enable customers to connect more.
Interestingly, all that a user has to do is to tap their NFC-enabled phones against these 'smart' posters. Since RFID tags are affordable and highly useful, they serve as the perfect source for enhancing customer engagement.
Utilizing RFID
RFID technology has the potential to redefine almost every industrial sector as it helps customers in having sufficient access to the relevant information about every online retailer's business offerings.
RFID devices also retain the works well with constant customer engagement as it notifies them about every single update on a regular basis.
These RFID tags also allow customers to keep track of their online orders and help retailers give relevant updates regarding their orders. This HF RFID technology can also be used in libraries to enable NFC communications.
The overall idea seems to be quite fascinating as it allows you to communicate with anything through your NFC-enabled device. It also helps users to store event tickets, allowing them to keep their personal data to have better access without much hassle.
In the US, few developments have been seen in the field of RFID technology. Certainly, enhancing the accuracy of data security system to a big extent is the most resourceful utility that RFID tags has.
Read More: How to Make a Powerful Mobile Wallet Application?
Uses of RFID for mobile technology
RFID class-recognition labels are utilized for instance identification that normally involves information where on the background a set of a database is.
Plenty of logistic-driven companies are making the most out of location identification. This activity gets smoother once the reader is allocated to a known location. It is with this system the current place of item can be identified. Some of the top postal services have already deployed such RFID features for streamlining their tracking services. This includes companies like UPS, FedEx, USPS and Finland Post.
Asset Tracking is one of the most common uses of RFID. It because the companies can put RFID tags on their assets where if in case they get lost or stolen, or even if remains underutilized they can track and know about its entire utility history. In fact, each type of RFID systems can be used for asset management.
RFID to replace barcode
The optical scanning method of barcodes tag obliges labels to be "viewed" by lasers. It also needs to be in alignment with the line-of-sight. This makes it difficult to scan the same.
For barcode reader to function in a proper manner, the reader must be legitimately situated concerning each other. RFID innovation empowers label reading from a more prominent distance, even in difficult looking situations.
The ActiveWave RFID tags come with the electronic memory just like the way it has in computers or digital cameras which are useful in storing information about the inventory, equipment, and even user details in a mobile phone.
The information is dynamic enough to be updated periodically or as the need arises.
The advantages of RFID
Ceasing the dependency over line of sight
Tag's fragility to stand a harsh environment
High range readability
Database portability
Dynamic reading and writing capabilities
Real-time tracking of equipment, items, and people
RFID technology is cost-saving and improved revenues can be achieved quickly
Holistic data collection
Enhanced access control
Assurance in container security
Provision to track industrial Activities
Conclusion
RFID's potential advantages are substantial, and we're certain to see numerous novel applications in the future—some of which we can't start to envision.
The segments that go into RFID readers and labels are real-time radio interchanges. However, their tinier size and expansive arrangement improve the force of the innovation and raise worries about the security and privacy hazards of RFID integration.
Although, these concerns are frequently prefaced on impossible presumptions about where the innovation will go and how it will be utilized.
So, if you're looking to build an app with RFID technology integrated in it, then you don't have to wait any more as we Peerbits will provide you the top-rated customized solutions.