Around 1.7 billion people worldwide do not have access to basic banking services such as credit card and savings account. But digital financial services has the potential to bring those 1.7 billion people into the financial system.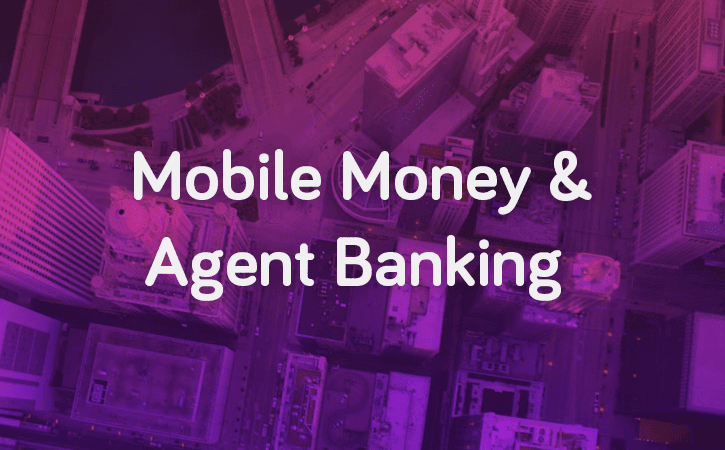 In order to make that happen, however, people need a mechanism that allows depositing and withdrawing their physical cash.
This is where mobile money and agent banking comes into picture.
What is mobile money & agent banking?
Initially, Mobile Money was created to increase financial inclusion for the people who were financially excluded before.
In fact, when mobile money was launched nearly a decade ago, the agent distribution networks were disrupted in the world of finance.
An agent distribution network basically provides last mile financial services to unbanked rural areas through viable digital alternatives.
Today, mobile money providers still use agent distribution networks to increase financial inclusion and deliver financial services.
In fact, the industry has witnessed a dramatic increase in both – number of active agents and mobile money. If we consider the mobile banking growth, the global mobile banking market was valued at $715.3 million in 2018 which is projected to be $1824.7 million by 2026 at a CAGR of 12.2%.
There were 1.2 billion registered mobile money accounts in 2020 and 5.2 million unique agent outlets globally. There was a growth of about 300 million active accounts in comparison to the year 2019 which shows a rise of 17%.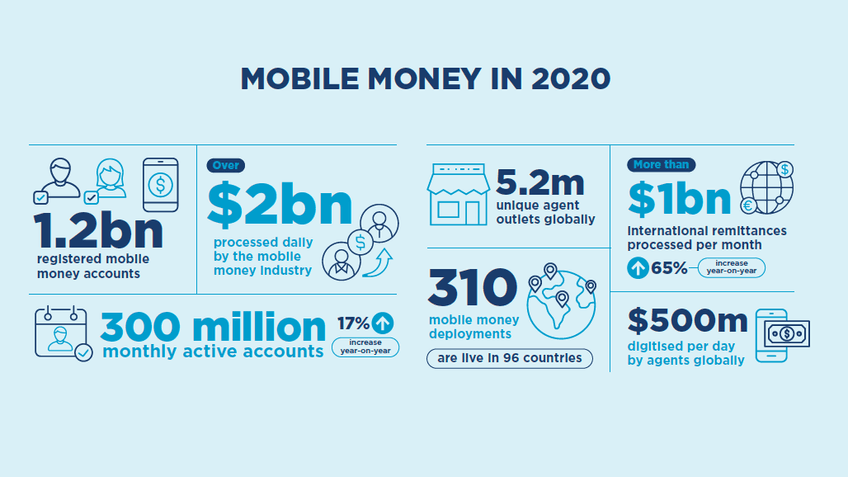 Though this growth was not a coincidence. It happened mainly due to two reasons.
First, mobile money acts as an engine for financial inclusion for people in rural regions where banking & other formal financial services are not available.
Secondly, mobile money offers an emerging business opportunity for agent distributing networks.
Foundation of mobile money
Mobile money was founded by two companies – Smart Communications & Globe Telecom.
These two companies had been operating mobile money transfers in Philippines since 2005.
Soon, the idea of Mobile Money was introduced in Africa by Vodacom in the form of M-Pesa in 2007.
Starting from Kenya, M-Pesa was aimed to revolutionize the mobile banking sector in the region where more than 80% of population did not had access to any kind of formal financial services.
Today, due to fast growth of M-Pesa, it's been proved that mobile money is indeed a worthy business model.

Evolution of mobile money over time
The future of finance is digital, there is no doubt about it. And mobile money is sitting on top of it.
Ever since smartphones penetrated the mobile phone market, mobile money has seen enormous growth.
While banking industry was resistant to the idea of mobile money initially, as they didn't fully understand it.
But since the breakthrough of advance technologies and smartphones, new business models around mobile money business have emerged.
Today, telecom operators and banks are utilizing agent distribution networks to lead towards a more inclusive future through mobile financial solutions.
In fact, a research by Partnership for Financial Inclusion has proved that it is 25% less costly to expand formal financial & banking services through an agent distribution network than through establishing brick and mortar bank branches in rural regions.
In addition, the Partnership for Financial Inclusion had delivered some 7.2 million mobile money users, 45,000 mobile money agents, and recorded $300+ Million in monthly transactions during the end of 2017.
Current market situation
What started as a money transfer tool, today mobile money has evolved into a bigger service in which the telecom operators allow people to not just pay their bills, but also provides access to insurance, loans, savings, and more.
Due to mobile money movement & evolution, people in rural regions can now make deposits, withdraw money, transfer or make payments directly through mobile money.
As a result, mobile money has opened up the gates to a wide range of opportunities to extend formal financial services to people whose area lack the facilities of traditional banks.
Not only this, but the mobile money is also providing solution to the lack of small change in circulation and encouraging entrepreneurship by offering a new career path as a mobile money agent.
According to a report by GSMA, today mobile money services are available in 96 countries via 310 live services. The industry is processing over $3 billion a day and has almost tripled in value since 2017.
What future holds for mobile money & agent
While there is much to learn from actual examples present in the world, like the case of China, where the entire economy is cashless and running efficiently.
But this kind of mass-acceptability and efficiency can only be achieved through collaborations between all industry stakeholders.
Looking at the future, however, the smartphone penetration will definitely rewrite the course of mobile money business by enhancing user experience through rich interfaces.
Following are the two ways in which mobile money will evolve in near future.
Opportunities will increase as mobile money models evolve
Generally, mobile money services providers make money by charging their customers for three different types of activities: Opening an account, CICO (Cash-in-Cash-out) services, transferring money to another person.
A mobile money services provider earns profit as long as the total revenue from the above mentioned activities exceed the total associated costs.
And looking ahead, consistent increase in the digital transactions will surely give mobile money service providers access to a bunch of whole new revenue streams.
For example, money transfers are currently the second biggest contributor to the mobile money revenue, and it also holds a greater revenue promise.
To be precise, money transfers in present mobile money market represent roughly 20% of total revenues, but that margin can exceed up to 75% mainly due to the large fees compared to the low costs to the agents.
So, as a result, mobile money services providers can improve their profitability by increasing the digital money transfers into their system.
Read More: 9 Ways to improve security of mobile banking apps
Providers will either have to partner or acquire new skills
Growing a profitable a dynamic mobile money business is no piece of cake. It requires a set of diverse and hard-to-attain capabilities.
Simply put, success of mobile money business demands broad marketing, management of agent sales force, financial intermediation, and proper systems in place.
For instance, mobile money businesses can reduce costs by leveraging existing customers and agent distribution networks to promote growth.
Increasing money transaction value by incorporating new services like eCommerce, peer-to-peer payments, or NFC system can also help to scale mobile money usage.
Building a mobile wallet solution is also another way to grow a mobile money business. Such a solution could include both – a savings account and providing bill payment services..
The bottom line is this. – It's up to mobile money providers to scale their business by identifying and experimenting with new opportunities.
Conclusion
New approaches are definitely required to extend the reach of mobile money and financial inclusions.
Therefore, mobile money providers should pursue innovation in finance mobile app development solution to help agents reduce liquid management burden, lower agent distribution network costs, and diversify their revenue streams through services like ecommerce, mobile wallets, and alike.
Lastly, all innovations must be developed and piloted with the help of a mobile app development company that has experience and expertise in building all kinds of financial mobile solutions, because smart investments can drive progress and can help to grow your mobile money services to people all around the globe.